How we built Upsiide's Idea Screening tool
Welcome to the innovation economy, where staying ahead of the competition is key to thriving as a business. 
At Upsiide, we understand the importance of finding new ways to grow and gain a competitive edge. That's why Dig Insights, the minds behind Upsiide, built our Idea Screening tool.
Upsiide's Idea Screening tool
Our idea screening methodology was created to help brands predict a product's in-market performance.
The tool is inspired by social media - more specifically, the swiping interface. This playful interface makes the survey-taking process quick, easy, and even entertaining.
During an idea screening survey, respondents swipe right if they like the idea or left if they don't. At the end, if they like two ideas, they'll face a trade-off scenario where they will have to choose between two ideas. 
Because respondents are forced to choose a favorite at the end, brands can determine the winning idea and evaluate it in context. This also allows for a more precise assessment of their potential against other products or in-market offerings and makes the respondent experience enjoyable and engaging, like a game.
Idea screening examples
Our Idea Screening tool allows you to test a variety of products and innovations, as well as ads and communications. Here's a taste of what you can screen on Upsiide: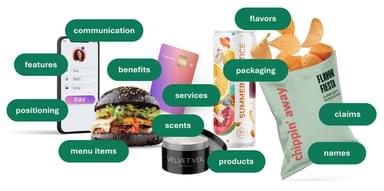 Products and innovations
Product testing is one of our most popular use cases on Upsiide. By using an idea screening tool to test products, you're able to:
Test as many ideas as you want

Get insights quickly (and within budget)

Predict your product's success in advance
Product concept testing
Whether it's a new product, a line extension or just a product renovation project, brands turn to Upsiide to test their product concepts.
Take Everipe, for example. They had an idea for Smoothie Mates, a smoothie booster for improving flavor and nutritional profile. Using Upsiide's Concept Testing solution, they found a niche group of consumers that liked Smoothie Mates and even found an opportunity for its incremental display with a retail partner.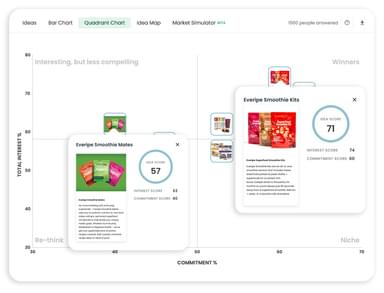 Features, benefits and service testing
Product features, benefits and services make up a large proportion of our idea screening studies. What's cool about these studies is that you can test features and benefits across different industries.
We used the idea screen methodology to test out different features that a quick-service restaurant (QSR) should add to improve the ordering experience and found.
In the financial sector, we asked consumers to tell us which benefits and services they'd love their banks to offer for personal banking, and saw that
Food and beverage testing
QSR and consumer packaged goods (CPG) brands often test new menu items, flavor combos, and scents with our idea screening tool. Even we had fun testing delicious AI-generated flavors and menu items.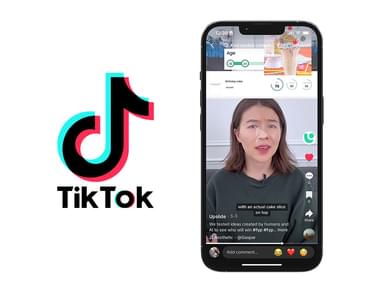 When we tested limited-time offers (LTOs) in the burger and beverage space, we discovered that shoppers especially love LTOs that convey crispy textures (e.g. Crispy Bacon Sandwich) and nostalgic flavors like Strawberry Shortcake Milkshake. Is it us, or can we hear your stomach growling?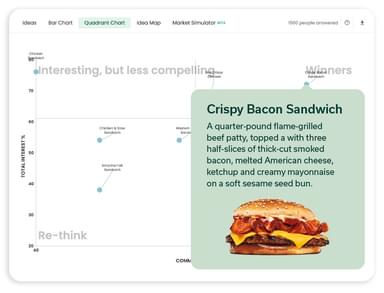 Ads and communication testing
Ad and communication testing contains visual and text-based ideas that can be part of your marketing collateral. Screening ads and communications with Upsiide will help you:
Forecast your campaign's performance before spending tons of money on it, 

Gauge emotional response and better understand what makes your audience tick

Quantify your ads' impact on the target audience and find points of optimization for better ad performance
Claims testing
The words you use to describe your product or service are important. You want to pick a language that resonates with your audience, and you don't want to waste marketing spend on rolling out messaging that nobody likes.
Claims and message testing with Upsiide are here to help.
We ran several studies to understand what claims make people buy different products. For instance, consumers are more inclined towards energy bars with packaging that says they're "made with real ingredients". In contrast, potato chip packs that mention their "crunchy" texture perform better than others.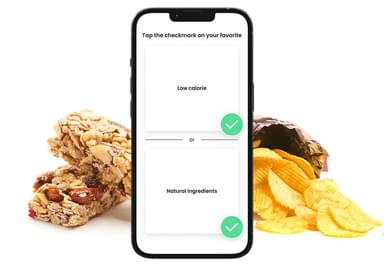 Packaging testing
CPG brands that work with Upsiide often use our pack testing solutions to design packaging that will grab people's attention on the shelf. 
ADVANCED GG, a gaming supplement company, used Upsiide's package testing solutions for their new ready-to-drink (RTD) product. They first tested their new and existing design mock-ups against each other. Then, after finding 2 winning designs, they did another test to see how they fare against the brands that already exist in the market. The Upsiide studies revealed that ADVANCED GG has some really cool opportunities in the market. 
Communications testing
This one is an extension of claims testing and is related to all marketing messages you might want to use.
We help brands understand what marketing messages and communications will resonate most with their customers, like in the case of Pizza Hut, who used Upsiide to predict the most impactful and important messages in-store during the pandemic.

Why Upsiide's Idea Screening tool is so good
Idea screening can predict the success of your concepts
Yes, it's bold to say that we can forecast how successful your idea will be in reality. But the thing is - we have a mathematical proof of that.
There are 3 main data points that come out of an Idea Screen test:  
Interest Score: It's the proportion of respondents who liked an idea (shown as a percentage).

Commitment Score: This is a proportion of each idea liked in a trade-off.

Idea Score: A composite metric that has been calibrated to predict the likelihood of in-market success based on both Interest and Commitment scores. We literally fine-tuned the relative weights of the Interest and Commitment Scores (using the Hierarchical Bayesian (H.B.) Linear Model) and consistently validated them with in-market realities - which resulted in an absolute score that can predict sales volumes.
But don't just take our word for it! Let's turn to the Oscars for a second.
Before the 2023 Oscars, we conducted an Idea Screen exercise with 200 adults in the United States. Our goal was to assess the Best Picture nominees and determine if there was a correlation between the Idea Score and box office performance. 
The findings revealed a strong correlation of 0.88, indicating that the films rated highly by our Upsiide respondents also performed well at the box office.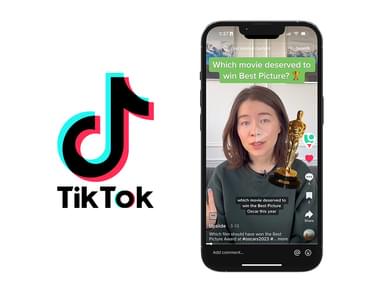 While it's worth noting that the film "Everything Everywhere All at Once" won the Best Film award, it did not rank as the top performer at the box office or in our idea screening. This highlights that even industry experts like the Academy of Motion Picture Arts and Sciences may not accurately predict what will resonate with consumers and generate the most revenue. 
That's why we also think that internal client teams should not assume they know what's best for the market, as real consumers who are willing to spend their hard-earned money hold the ultimate decision-making power.
Idea screening can show how you fare against the competition
What makes Upsiide's idea screening tool so good is the expertise provided by our makers, Dig Insights. 
We reflected that expertise in our sophisticated built-in data visualizations, allowing you to envision how your ideas play out in the market and make strategic decisions that optimize your research efforts: 
Bar chart displays how ideas rank in order and allow for easy comparison of key groups of interest

Quadrant chart allows you to compare Interest vs. Commitment Scores and learn where the ideas sit against each other in the market map

Idea map reveals the structure that underlies your ideas and how they cluster together into groups

Market Simulator is a brand-new tool that helps you quickly and easily understand where an innovation sources volume from
Idea screening allows you to test complex ideas and gauge consumer behaviour 
Although we created our idea screening tool to help brands test innovations, we've also found you can test pretty much anything.
For example, we ran a study with Dig Insights to understand how inflation affects people's grocery shopping habits. We asked respondents to swipe right and left on categories that were impacted most by rising prices. The study revealed that while people find meat and poultry too expensive today, they still enjoy treating themselves to some sweets and snacks. 
Curious about how Upsiide's Idea Screen tool can help you?