The quick-service restaurant (QSR) industry is no stranger to change. Back in the mid-2000s, Starbucks revolutionized the mobile ordering and payment space with its mobile app. McDonald's established the value of touch-screen kiosks, helping the brand to streamline the ordering experience more efficiently.
And the pandemic only accelerated this drive toward innovation. Brands are now more confident in conceptualizing bolder restaurant ideas and investing their resources into QSRs of the future.
As much as we enjoy daydreaming about what the future of restaurants could look like, the clouds start to disperse once you consider the practicalities of these innovations. The bottom line is that new ordering features should drive more customers and revenue rather than just being a fun gadget that guests can play with.
To understand which new ordering features QSR brands should consider building in the future, we turned to consumers. 2000 North Americans responded to an Upsiide survey and told us how they like to order from QSR restaurants, why they use each ordering method and which features they like the most.
We already laid out a ton of insights about consumer habits in our latest article on Dig Insights' blog. Here, we want to dive into testing different ordering features with consumers.
The study basics:
Base size: 2000

Canada, US

18+

Male and female

Ordered from a QSR restaurant in the past 3 months
Here are the ideas we tested
We organized the features by 3 different ordering methods:
Drive-thru

Mobile app

Touch-screen kiosk
For each method, we came up with several ideas that were related to these 4 areas:
Special Ordering Lanes

Personalized Experience

Order Pick Up

Innovation/Technology
Here is what we came up with: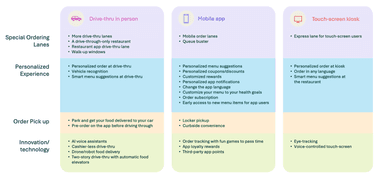 Respondents went through an idea screening exercise during the survey. If they liked an idea (i.e. a feature), they swiped right. If they didn't like it, they swiped left. And if they swiped right on 2 ideas, they were forced to choose a favorite. 
Upsiide calculates the results using 3 scores. The Interest Score tells us how many people liked the idea, expressed as a percentage. And when people like two ideas, they're asked to pick a favorite - this generates the Commitment Score. The Idea Score is a combination of both scores, and it's calibrated to predict market success. It's like a crystal ball for QSR brands, telling them which ideas will bring in more customers and revenue. 
So which features did people like most?
All subgroups of respondents love app features that offer customized coupons and rewards. Personalized coupons/discounts come first with an Idea Score of 73. App loyalty rewards (Idea Score of 72) and customized rewards (69) follow right after.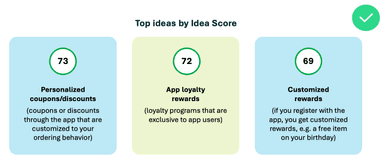 It's obvious that consumers are more attracted to features that offer a personalized experience with some technology usage (in this case, an app). 
What's even more compelling is that the top 3 features remain the same no matter which subgroup we look at. Even people that don't have any restaurant or third-party mobile apps (e.g. Uber Eats) like these features. 
Offering discounts and rewards could be perfect low-hanging fruit for brands if they can afford it. By providing these features in the ordering experience, brands are more likely to attract customers and remain confident they'll drive conversions.
Other opportunities to innovate
Offering up  discounted prices or showering people with rewards isn't something that every brand can afford (inflation goes both ways). So what are the other opportunities for brands to act on?
1. Drone food delivery has its own group of dedicated fans
The quadrant chart below demonstrates how ideas fared against each other in total interest and commitment. You can see that Drone/Robot Food delivery is in the 'Niche' quadrant. This means that while the number of people that like this idea is smaller, that group keeps choosing the feature over and over again in the trade-off exercise. This idea could have potential if offered by the right brand and targeted to the right people.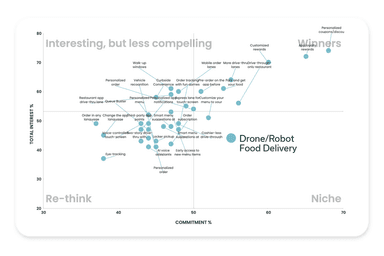 2. Americans look for ways to discover new menu items via the app
US consumers are particularly interested in discovering special new items on mobile apps compared to their Canadian counterparts. The idea of "Early access to new menu items for app users" receives an Idea Score of 61 with the US audience but only 45 with Canadians.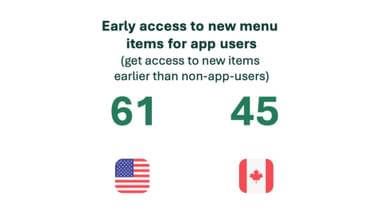 To understand why this happens, we turned to the Jobs-to-Be-Done (JTBD) theory. In short, JTBD helps brands understand the task (a job) that consumers want to solve by using a product. We calculated JTBD score to learn which jobs people consider important but aren't currently satisfied with. The higher the score, the bigger the gap between importance and satisfaction.
In this case, the need to "Maximize the amount of new items I find on the menu" peaks with Americans (JTBD Score is 7) compared to Canadians (-9). This means that US consumers find this need very important but aren't satisfied with their ability to discover new items on the app right now. A great opportunity for a QSR brand to consider when renovating or evolving their app experience.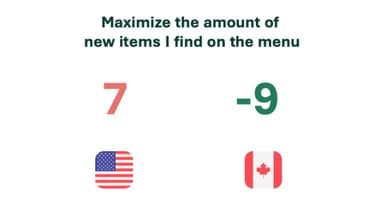 3. Women want app rewards customized to their needs
"Customized rewards" performs significantly higher with women, scoring 6 points higher than men. Compared to men, women have a need to receive personalized rewards like getting a free item on their birthdays.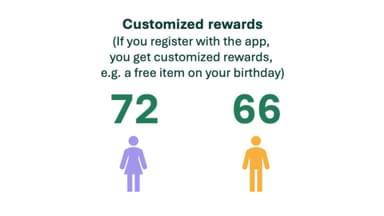 This is proven by the fact that women feel a gap in their ability to increase the rewards they acquire. "Maximizing the chance of earning more rewards/loyalty points" is a very important job for women, but they aren't satisfied with their ability to do so when they order via a QSR app. This could be a good opportunity for brands to maximize the earning potential for rewards in-app.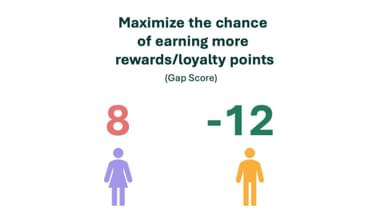 4. Meanwhile, men want to receive their food faster and fresher…and via an elevator
Ideas that aren't the norm right now, such as "Two-story drive-thru with automatic food elevators," (a real example we drew on from Taco Bell) are more popular with men. The latter garnered an Idea Score of 50 as compared to women (38). It looks like the male subgroup is pretty receptive to brand-new features that might make the ordering experience more engaging.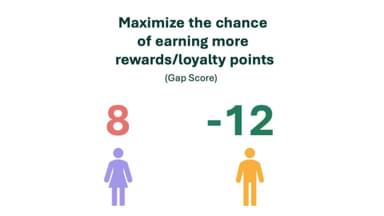 We think receptiveness amongst men for this idea is a mixture of a few things: a love for novelty and new tech, a perception of freshness, and a desire for speed. The job "Maximize how fresh my order is" at the drive-thru peaks higher among men, with a JTBD score of 5.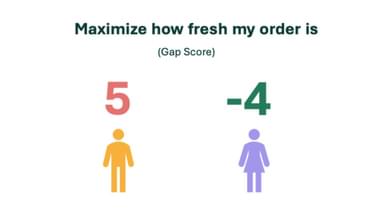 5. Millennials turn to apps to avoid human interactions
Compared to other generations, millennials are more likely to visit a restaurant that allows them to place orders via the app in advance before they drive thru.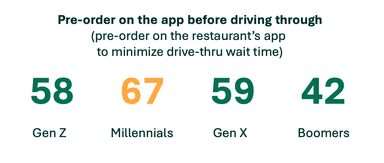 We think this has a huge amount to do with their desire to limit human interaction when ordering food, as evidenced by the gap score below. The app is a perfect alternative for them and could be a great opportunity for brands to bridge the gap between the app and the drive-thru.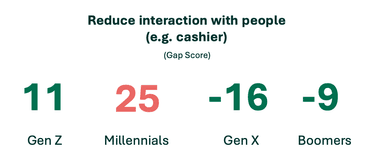 What role do apps play in people's QSR ordering experience?
What benefits are North American guests seeking when using apps offered by brands and third-party companies? 
Reasons that people use apps
"Loyalty rewards" and "I can earn reward points" are the top reasons that people use QSR apps. However, the chart below shows that convenience and speed (indicated in green) are also important factors. "I can order ahead" is the third most important reason for using an app.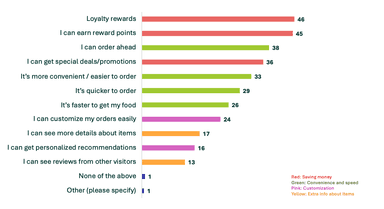 It's interesting that the lowest-ranking reasons are about getting extra information about items. "I can see more details about items" and "I can see reviews from other visitors" are at the bottom. It shows that people don't need dedicated QSR apps to get more information about what's on offer. They are either already familiar with items or can access these details through other sources. 
Instead, people download apps to deepen their experience with the brand. And since they go out of their way, sign up for the app account and basically become part of the brand's "fan club," they want to be incentivized with loyalty rewards.
Strengths and weaknesses of QSR apps
We asked consumers to share what they think apps are great at and where they are lacking. Consumers say that while apps are considered accurate and easy to use, users recognize they sometimes have technical difficulties.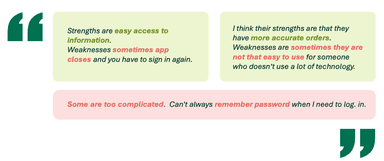 A brand that wants to deliver the best app experience needs to lean on these strengths and try to optimize the technical aspects of usage, making it easy to keep coming back.
Key takeaways
1. Guests expect a "quid pro quo" for using a touch-screen or app
Apps are still a pretty topical method of interacting with a QSR, but brands should make sure that they praise their app users with rewards and loyalty programs. Since loyalty rewards are the main reason why people turn to apps, brands need to show that savings pass on to the customers' wallets. If a brand incentivizes the app experience with rewards, it can grow and retain its fans.
2. New technologies like robots, drones and food elevators might actually be great opportunities for differentiation
These features resonate with a small group of people but show so much commitment. We all know that if you're not innovating, you're not growing or planning for the future. So if you have enough resources to begin implementing some differentiating features, they can separate you from the competition.
Curious to learn more about QSR ordering trends?
Watch this webinar now as our Senior Research Manager, Daniel Dharmasurya, explains what else consumers value in the QSR ordering experience.