Why Upsiide?
1
Act quickly (and with confidence)
Now more than ever, you're being asked to make decisions quickly. With Upsiide, you can leverage researcher-approved survey templates - we call them Blueprints - to set up and send studies in minutes. You'll have answers from your target audience rolling in that afternoon.
2
Prioritize ideas easily
The best part of running research is finding out something new. Our interactive dashboards make that easy, with a quadrant chart that helps you assess how your ideas perform against one another and an Idea Map that showcases the relationships between those ideas.
3
Test as many ideas as you'd like
Traditional DIY research platforms are priced based on the number of ideas you'd like to test. But on Upsiide, you can test up to 50 pieces of stimuli at once, meaning you never have to worry about limiting yourself.
How growing businesses use Upsiide
Test product ideas
If you're having a bunch of internal discussions about which product will do best in market, Upsiide will be your friend. Upsiide can help you quickly understand where to place their time and effort.
Optimize creative
Want to understand which packaging options will appeal most to your target audience? What about advertising creative? With Upsiide, you can pit different mockups against each other, getting a clear direction on what works best and why.
Prioritize messaging
You've got a handful of different go-to-market messages or benefits that you think could work best. But what's the right mix to launch with? Our communications testing Blueprints will let you test all of your options against each other, determining the exact right mix.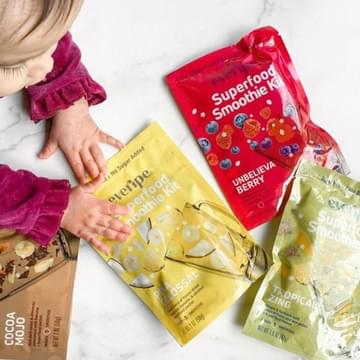 Case study
How Everipe's data-driven approach to innovation brought them certainty.
Everipe needed to create a persuasive product portfolio and marketing strategy to bring on new customers and wow investors.
The Upsiide approach simulates real decision-making.
The thing that is most beautiful to me about concept testing on Upsiide is that the forced choice methodology doesn't just tell you whether consumers like or dislike a concept, it simulates real world decision-making.

I know how dependable the data is that comes from a 'forced choice' study experience. If you're working with a limited insights budget, this methodology means you won't have to trade off on the integrity or sophistication of a larger quant survey.
We work with businesses across many different industries
Food & Beverage
Leverage Upsiide for their early stage idea screening, flavor testing, and package development.
Finance
We've worked with banks and emerging fintech companies to test offers, mobile banking features, and more.
Restaurants
Restaurants and fast food chains regularly use Upsiide to fill their innovation pipeline with validated menu items.
Alcohol & Spirits
We've worked with spirits brands big and small to optimize packaging and decide which ready-to-drink offer has the most potential to succeed in-market.
Beauty
Struggling to understand which color palettes or new products to launch? We work with researchers to validate new products prior to launching them.
Travel
We work with travel and transportation companies to help them test vacation offers, creative, and messaging.