The story of Starbucks' iconic limited-time offer 
Pumpkin Spice Latte (or PSL, as many of us know it) became a fan favourite since day 1. Within a decade after the launch of PSL, Starbucks sold 200 million of the lattes and, in 2019, CNBC estimated that Starbucks has sold roughly 424 million cups of PSL.
Starbucks' PSL story demonstrates the power of limited time offers (LTOs) and the amount of work that needs to be put into creating a truly successful offering. Short seasonality (the offer is available only a few months a year), a sense of nostalgia for traditional family events like Thanksgiving, and, most importantly, an innovative product recipe are some of the things that make PSL so popular. 
What we set out to learn about limited-time offers
Inspired by how Starbucks created the formula for a successful LTO, Upsiide was curious to know what drew customers of quick service restaurants (QSRs) to try LTOs. 
After researching some unique (and, frankly, delicious) LTOs, we conducted a study with 1,000 US and Canadian consumers to analyze promotional and new product LTOs within the sandwich and beverage categories. Some of those LTOs were unbranded and only featured the name of the new menu item. And some were real LTOs from large QSR chains. We also asked respondents to answer a few follow-up questions to track their consumption habits and behaviors.
Key Discoveries
When LTOs work, they really work

Maintain a balance between 'being too different' and 'being too conventional'

Targeting consumers at the right time

It's not enough to give something away for free
How Upsiide surveys work
Before we fall into the results, let's have a quick run through the different scores in an Upsiide idea screening survey:
The Interest Score is the proportion of people who liked an idea (in this case, a LTO) and is expressed as a percentage. When respondents like two ideas, they are asked to trade-off between them, picking a favourite - which generates the Commitment Score. Finally, the Idea Score is based on a combination of the Interest Score and the Commitment Score - it's an absolute score that's been calibrated to predict performance in-market.
Now, let's dig into some major trends we've discovered from the study!
Key Discoveries
1. When LTOs work, they really work
Sandwich LTOs
The quadrant charts below categorizes the sandwich and beverage LTOs into four brackets, according to the balance between their 'Total Interest' - how many people swiped right - and their Commitment Score - how often they chose a specific brand when pitted against another brand that they liked.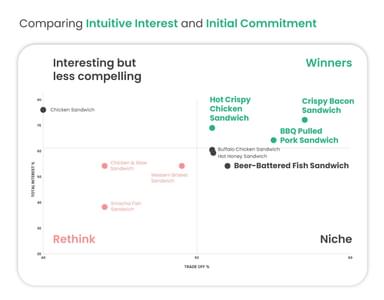 Within the sandwich category, we've analyzed ten LTOs that featured new menu items. Crispy Bacon Sandwich, Hot Crispy Sandwich and BBQ Pulled Pork are sitting in the Winners category, meaning that they have pretty high interest and commitment scores. In contrast, the Chicken Sandwich, which actually tops the charts in the Idea Score (70), is in the Interesting but Less Compelling quadrant. This means that even though consumers like the Chicken Sandwich, they aren't that committed to it. 
It's interesting to see the Beer-Battered Fish Sandwich in the niche corner. This LTO wasn't as popular among the respondents overall, but those who chose it kept picking it over and over again when it came up against other sandwich LTOs. When we looked closer at the results, it appeared that people over 55 were the most likely to choose the Beer-Battered Fish Sandwich over all of the other options (giving it a Commitment Score of 61% vs. the average of 51%). Whether it's the nostalgic beer-infused taste or their love of fish, there is something to this sandwich that makes a niche group of people choose it again and again.
Beverage LTOs
Moving on to the beverage space, we see new points of interest.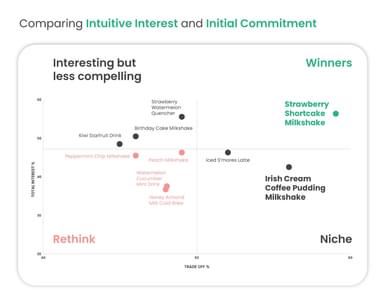 Strawberry Shortcake is a notable winner in the top right corner, winning in terms of Interest and Commitment. Interestingly, other beverage LTOs which topped the charts with high Commitment Scores (Strawberry Watermelon Quencher, Kiwi Starfruit Drink and Birthday Cake Milkshake) end up in the Interesting but Less Compelling corner, which means that weren't attractive enough for consumers to pick over other LTOs. 
Irish Cream Coffee Pudding Milkshake is a strong contender in the niche quadrant. Just like the Beer-Battered Fish Sandwich, Irish Cream Coffee Pudding Milkshake is evidently favoured by a specific group of audience who continually chose it when pitted against other LTOs. But who makes up this audience group? The data says that Canadians were the ones that stayed loyal to the Irish Cream Coffee Pudding Milkshake, holding a Commitment Score of 62% compared to the average of 56%. Whatever it is - Irish descent, coffee taste or pudding consistency - Canadians seem to be really keen on this drink. 
2. Maintain a balance between 'being too different' and 'being too conventional'
The results show that, perhaps predictably, an enticing flavour combination is the basis of a good LTO. 
The top-performing sandwich LTOs contain items with popular flavours. The Chicken Sandwich, Crispy Bacon Sandwich, and Hot Crispy Chicken Sandwich contain familiar meat like chicken, pork and beef. They also have conventional sauces like ketchup and mayonnaise. This may have contributed to their success, garnering Idea Scores of 70, 70 and 66 respectively.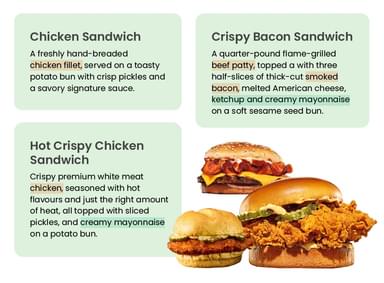 It might seem like consumers don't prefer brand-new flavour combinations; for instance, Sriracha Fish Sandwich only earned an Idea Score of 40. 
But it's not as simple as saying that you shouldn't have original flavours and flavour combinations in your LTOs. For instance, the Chicken Slaw Sandwich contains chicken and slaw, which are pretty traditional ingredients - but it still got one of the lowest Idea Scores (52). Perhaps those flavour combinations were too conventional for some respondents, to the point that they seemed boring or undifferentiated from the norm.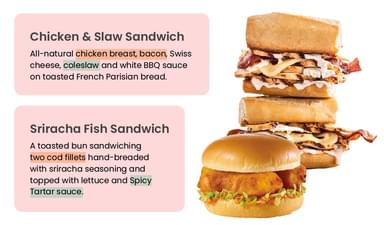 A somewhat similar pattern is visible in the beverage space. Strawberry Shortcake Milkshake (Idea Score of 57), Strawberry Watermelon Quencher (54) and Birthday Cake Milkshake (50) top the charts as the best performing beverage LTOs. What unites these beverages is that they feature popular and nostalgic flavours. The first two drinks contain strawberries and the Birthday Cake Milkshake has vanilla beans and hazelnut - all of which are sweet ingredients that we might have loved as kids. And the Birthday Cake Milkshake's name speaks for itself - it's essentially a drink that you would have as a kid on your birthday.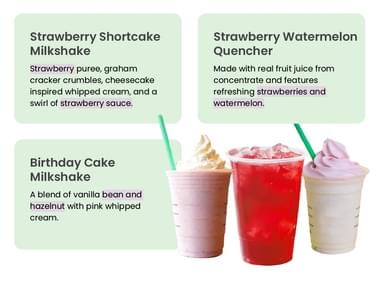 But the drink with the most unconventional ingredients, Watermelon Cucumber Mint Drink, came last. We think that the combination of sweet watermelon and bitter cucumber might have affected people's choices.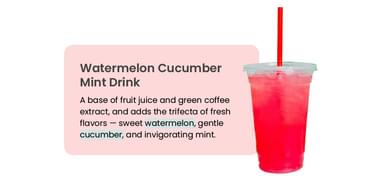 So what does this mean? Be careful with your flavour combinations. You can play around with popular ingredients and create something unique, but there's a fine line between being too different and unique and too conventional or 'normal'. 
3. Targeting consumers at the right time
When is the best time to target consumers with LTOs? This was the question we wanted to answer with the following question.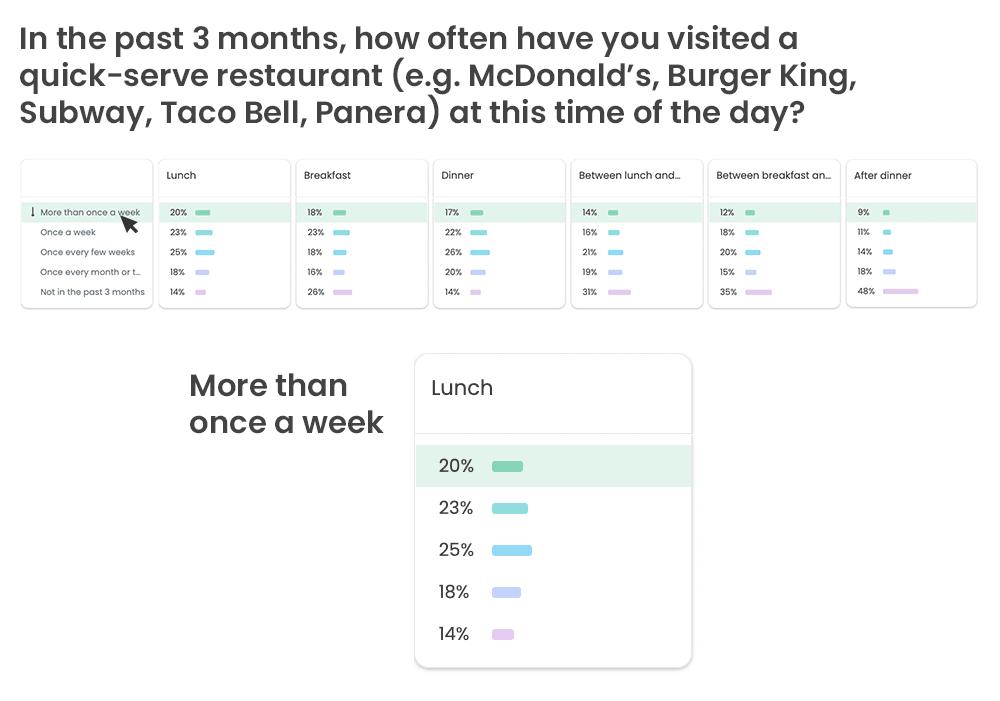 The new Upsiide grid question allowed us to ask consumers not only when they order from QSRs, but also how often. The results showed that lunch was the time when consumers self-reported ordering from a QSR most often (20% stating that they order 'more than once a week' and 23% ordering 'once a week'). The largest percentage of consumers order from QSRs for dinner 'once every few weeks' (26%) and 'once every month or two' (20%). 
What this data helps to understand is how QSR brands can tailor their LTOs to capture the highest amount of consumers during those times. For example, a potential LTO idea would be setting specific hours to when the deal is available (e.g. from 1pm to 7pm).
4. It's not enough to give something away for free
We'd all assume that people want to have a quality product for a lower price, and the results proved it. 
The highest Idea Scores in the sandwich sector belonged to LTOs with the lowest prices. Wendy's and McDonald's LTOs which featured the Buy-One-Get-One Free deal topped the charts with Idea Scores of 70 and 68 respectively. In contrast, the Subway LTO, which cost $5, gained only 48 in the Idea Score. Even if the LTOs at Wendy's and McDonald's might actually cost more with the purchase of other items, the word "free" in both offers might make them more enticing than Subway's LTO.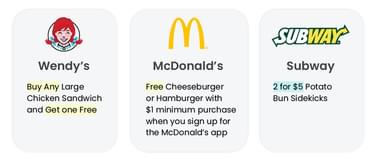 Similarly, McDonald's and Burger King came first in the beverage section. These LTOs, which include $1 drinks, outperformed those with higher-priced beverages from Tim Hortons ($1.99) and Dunkin' Donuts ($2).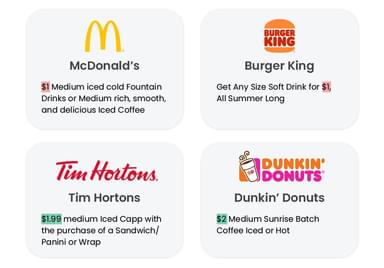 But these results aren't as straightforward as they might sound. We assume brand familiarity and allegiance played a key part in respondents' decision-making, and the popularity of the LTO menu items could impact results too. As an example, Wendy's offer is for Chicken Sandwiches, a product that consumers are familiar with when thinking about Wendy's. Arby's, which only got an Idea score of 50, offered the Classic Beef 'N Cheddar Sandwich and the Crispy Fish Sandwich. Perhaps, those items or ingredients aren't as popular among their consumers anyways, which might have impacted their interest in their LTO deal.

Now, let's consider brand affinity. We asked consumers which QSRs they've ordered food or drinks from in the past 3 months. And when we filter the results of this question against the LTOs data, we see that respondents largely preferred LTOs from their favourite brands. Starbucks is an especially noteworthy example of this: those who ordered from Starbucks in the past 3 months choose Starbucks' LTOs over other brands (giving it a whopping Idea Score of 80 compared to the average of 60).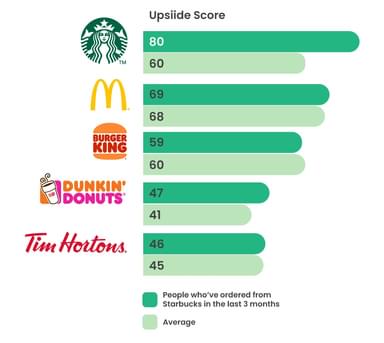 So what can you learn from the analysis? Offering the cheapest LTOs might be a way to go if you want to get sales in, but carefully considering which menu items you're offering is crucial to people taking you up on your offer. 
Final thoughts
Creating a standout LTO takes time and patience to nail. Starbucks' success story with PSL proves that all this work is truly worth it not only to drive more sales and bring in new customers, but also to raise your brand to cult-level fame (PSL even had a Twitter account!).