Why Upsiide?
1
Act quickly (and with confidence)
Now more than ever, you're being asked to make decisions quickly. With Upsiide, you can leverage research and audience Blueprints to set up and send studies in minutes, with answers from your target audience rolling in that afternoon.
2
Make inspired, net new decisions
The best part of running research is finding out something new. Our interactive dashboards make that easy, with a quadrant chart that helps you assess how your ideas perform against one another and an idea map that showcases the relationships underlying those ideas.
3
Test as many ideas as you'd like
Traditional DIY research platforms are priced based on the number of ideas you'd like to test. But on Upsiide, you can test up to 50 pieces of stimuli at once, meaning you never have to worry about limiting yourself.
How marketers leverage Upsiide
Ideas
You've got a bunch of new flavors or mobile offers or product ideas, but you don't know which have the most potential. Marketers at companies like Pizza Hut and Yeti are leveraging Upsiide to quickly understand where to place their time and effort.
Creative
Whether you need to assess the effectiveness of campaign creative, or you'd like to understand which packaging options will appeal most to your target audience, Upsiide's intuitive dashboard lets you test stimuli in whatever way suits you.
Communications
You've got 20-30 different claims you think could work on a new product you're launching. But what's the right mix to launch with? Our communications testing Blueprints will let you test all of your options against each other, determining the exact right mix.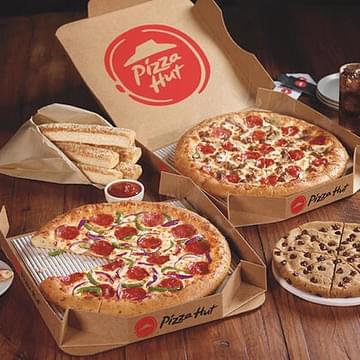 Case study
How Pizza Hut leveraged Upsiide to develop a clear innovation roadmap.
The marketing team at Pizza Hut needed an agile platform to help them test in-store creative, new menu ideas, and communications. Read on to get a sense of the value and cost-effectiveness of Upsiide.
We've saved money - a lot of money.
Before Upsiide, if we wanted to test 30 ideas with a traditional agency partner, we would spend tens of thousands of dollars. And the amount of time that you would need to wait for the results to come back would mean weeks lost. Upsiide has saved us weeks of waiting for results and allowed us to act on key insights right away - while saving valuable budget.
Why Upsiide is uniquely placed to help marketers
1
Blueprints are created by researchers
We've got a library of templates (we call them Blueprints) designed for marketing research. The best part? Our development team didn't put them together. Our colleagues at Dig Insights leveraged their decades of research experience to ensure they're fit-for-purpose and robust.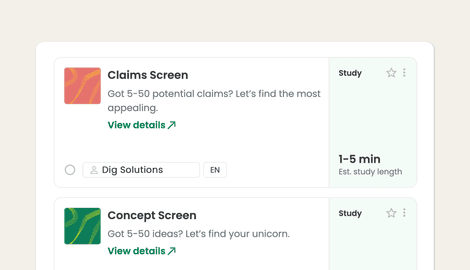 2
Understand the why behind hard, quant data
Our intuitive user interface, wide variety of answer types (think: grid and emoji answer options) and easy-to-use results dashboards allow you to glean valuable nuggets of insights about your customers and how they behave.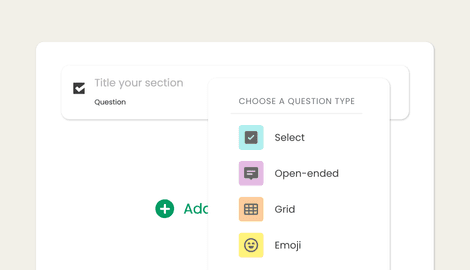 3
Reporting that's aligned to business metrics
We've developed a brand new metric, the Idea Score, that makes prioritizing opportunities easy. And the quadrant chart shows you exactly which ideas will succeed in market, which need to be reworked, and which won't make it. There's nothing else like it in the market.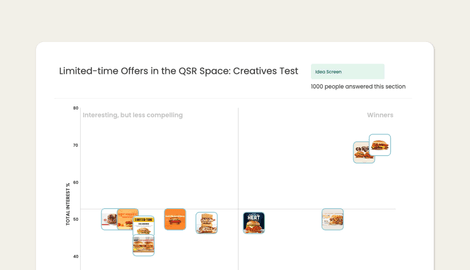 We work with marketing teams in many different industries
Food & Beverage
Marketing teams leverage Upsiide for their early stage idea screening, flavor testing, and package development.
Finance
We've worked with banks and emerging fintech companies to test offers, mobile banking features, and more.
Restaurants
Marketers at restaurant and fast food chains regularly use Upsiide to fill their innovation pipeline with validated menu items.
Alcohol & Spirits
We've worked with spirits brands big and small to optimize packaging and decide which ready-to-drink offer has the most potential to succeed in-market.
Beauty
Struggling to understand which color palettes or new products to launch? We work with researchers to validate new products prior to launching them.
Travel
We work with travel and transportation companies to help them test vacation offers, creative, and messaging.