Why QSR brands love Upsiide
1
Big menu? Big deal.
Test up to 50 ideas at once on Upsiide for no extra cost. Upsiide's Idea Screening feature lets you test all of your ideas at once, even the ones you generated with our built-in AI tools. Plus you can save your templates and audiences to rinse & repeat easily.
2
Customizable templates
Upsiide's pre-built flavor and menu testing templates were created by the research experts at Dig Insights. Take advantage of their expertise and get the insights you need quickly with Upsiide's fully customizable survey templates.
3
Understand real impact
Don't be a cannibal. Learn how to optimize your menu and launch innovations that drive incrementality with our Market Simulator. Upsiide goes beyond attitudinal measures, like purchase intent, to business measures, like forecast share.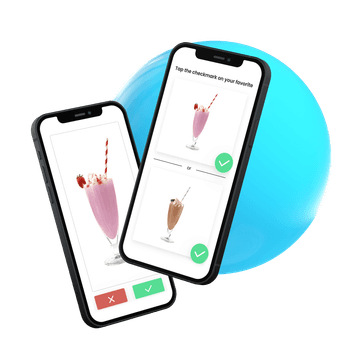 Flavor Testing
Brew up a taste sensation with our predictive Flavor Testing feature
Some things just work. Like peanut butter and jelly, fries and a vanilla milkshake, or actionable insights and Upsiide. Discover what tickles your guests taste buds, and why, with our Flavor Testing feature.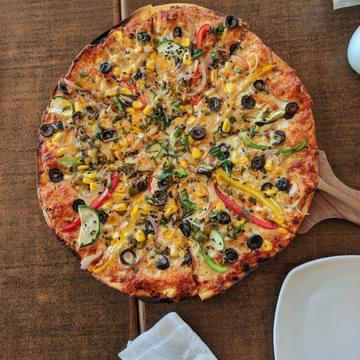 How Pizza Hut Uses Upsiide to Innovate Quickly and Confidently
As a marketer trying to innovate in the fast-paced quick-serve restaurant (QSR) space, it's hard to get answers to all of your innovation questions. The task becomes even more challenging when you are running up against the clock, you have to budget your research spending wisely, and you can't lose out on quality.
That's where Upsiide comes in.
Upsiide saves you time and money
We've saved money, a lot of money. Before Upsiide, if we wanted to test 30 ideas with a traditional agency partner, we would spend tens of thousands of dollars. And the amount of time that you would need to wait for the results to come back would mean weeks lost. Upsiide has saved us weeks of waiting for results and allowed us to act on key insights right away - while saving valuable budget.
A research platform designed for restaurant brands
Curious to see how Upsiide works? Dive into a QSR idea screening survey that we've made available on the public dashboard. Spoiler alert: nobody liked the AI-generated idea for a 'New York Style Cheesecake Burger'.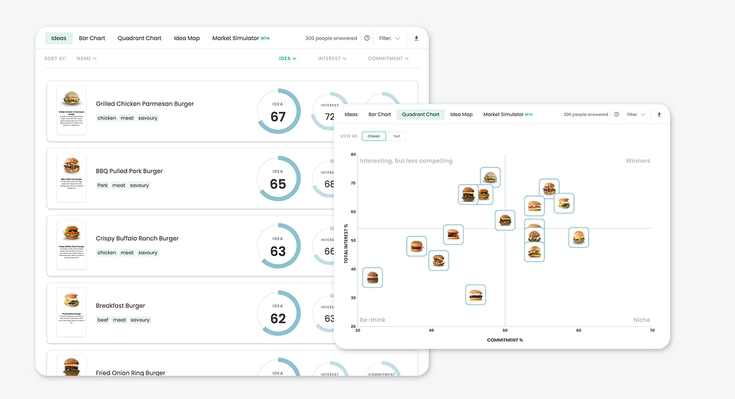 Ready-to-launch innovations in 5 simple steps
1

Draft your ideas

Generate as many ideas as you can and test them against each other using our Idea Screening tool. It's as easy as swiping on a social media platform.

2

Choose a direction

Start prioritizing your ideas - which ones have the most opportunities for innovation? Quickly and easily prioritize your ideas with our 5 handy dashboards

3

Develop a concept

Once you find the most promising idea, it's time to go full speed ahead and craft a concept that will tickle their taste buds!

4

Hone in on the details

Don't forget to refine and optimize extra details that come with your concept. You're almost ready to launch!

5

Ready to serve

Time to introduce your final product. Craft a rollout plan with just the right messages to attract your perfect audience. Your friend Upsiide will you support you at every stage!
Which features do consumers love most in QSR ordering?
We turned to North American consumers for answers. Watch this webinar to learn how brands should approach different consumer groups and create the optimal ordering experience.
More about using Upsiide for QSR