Why Upsiide?
1
Inspire a new way of doing agile research
We're not your classic DIY survey platform: we were purpose-built for innovation research. By tailoring our platform to this part of research, we've been able to make specific idea testing methodologies much more effective and actionable than a generic platform might.
2
Work smart and fast
Yes, agile research needs to be fast. But speed isn't particularly useful if the results you're getting back aren't trustworthy. We've designed our platform with this in mind; you'll be able to set up studies quickly and make decisions quickly too.
3
Uncover new strategic opportunities
A lot of research tech is simplistic questions and simplistic reporting, which leads to less rigorous decisions and missed opportunities. Upsiide provides a clear ranking of your ideas, as well as data visualizations and volume & source of volume forecasting.
How researchers leverage Upsiide
Screen
Test up to 50 concepts, designs, or communications with our Idea Screen methodology. When analyzing the results you'll be able to see which have the most potential to succeed in-market, and which need to be re-worked.
Refine
Want to learn what your audience has to say about each of your concepts? Our diagnostics feature, Idea Split, allows you to decide how many ideas you want each respondent to see, and ask follow up questions to understand the viability of launching each concept tested.
Assess
We've baked Blueprints into the platform that were created by researchers at Dig. Our Assess Blueprints let you explore the performance of your innovations across the entire purchase funnel, helping you understand the optimal product mix and whether your concept would be incremental or cannibalistic to your brand.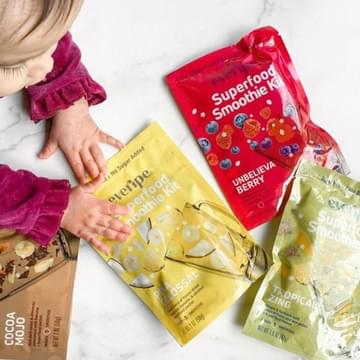 Case study
How Everipe used Concept Assess to grow the business with certainty.
Everipe, a growing producer of nutrient-rich smoothies in a freeze-dried format, wanted to test the viability of its products. Our Concept Assessment solution showed how they measure up to the competition and prove their market potential.
Why Upsiide is uniquely placed to help researchers
1
Created by researchers
Upsiide is the brainchild of researchers at Dig Insights, so we know what insights pros want. Upsiide is fast, simple and delivers on complex research tasks - just what any researcher needs.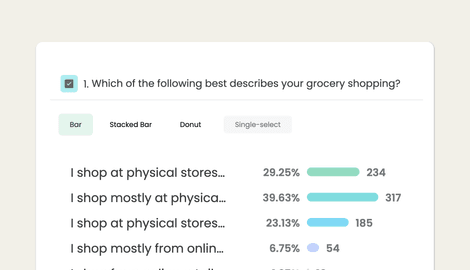 2
Custom testing programs
Sometimes you need the ability to create survey templates for your teams that are tailored to your specific needs and category. We've worked alongside global clients to customize the Upsiide experience to their requirements.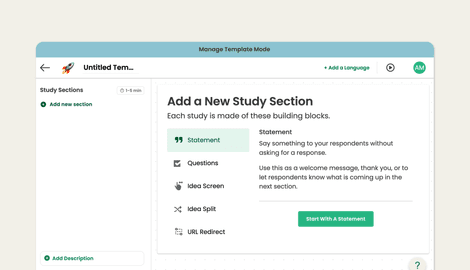 3
Global reach & usage
Reach global audiences at the click of a button, leveraging auto-translations to make your work easier. Our Audience Marketplace lets you access respondents in over 40 countries and across 24 languages.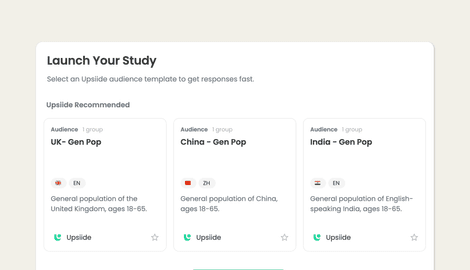 We work with research teams in many different industries
Food & Beverage
Global research teams leverage Upsiide for their early stage idea screening, flavor testing, and package development.
Finance
We've worked with banks and emerging fintech companies to test offers, mobile banking features, and more.
Restaurants
Researchers at restaurant and fast food chains regularly use Upsiide to fill their innovation pipeline with validated menu items.
Alcohol & Spirits
We've worked with spirits brands big and small to optimize packaging and decide which ready-to-drink offer has the most potential to succeed in-market.
Beauty
Struggling to understand which color palettes or new products to launch? We work with researchers to validate new products prior to launching them.
Travel
We work with travel and transportation companies to help them test vacation offers, creative, and messaging.