What is agile market research?
Agile market research is a process in which you iteratively gather consumer feedback to improve your concept or idea.
This process was initially born out of the software development and SaaS worlds. Agile testing in software combines 2 things - early testing and speed. 
Software developers gather user feedback as early as possible. 

Testing and coding are completed in sprints so that the developers could create a minimally viable product (MPV) as quickly as possible.
As market research tools continued to evolve, insights experts borrowed from the tech world and implemented an agile testing method when testing innovations. 
They understood that improving a concept or product isn't as quick of a process as improving software. That's why "agile" now describes a process in which market research is used to test ideas early and iteratively optimize them before launch.
Benefits of agile market research and testing
Here's how agile market research and agile concept testing can help you achieve your market research goals.
1. Quicker research means quicker insights
Agile market research has the advantage of rapid insights gathering. Traditionally, market research can take quite a long time, from study design to data collection and analysis. 
Agile methods streamline the research process, enabling researchers to adapt, launch, and gather insights in a fraction of the time it takes with traditional methods. With this speed, businesses can swiftly respond to market changes, consumer preferences, and emerging trends.
For example, suppose there's a new trend happening in the industry (like plant-based protein). In that case, you can use agile market research to gather feedback on consumer preferences and even do some early concept testing to ensure market fit for a new plant-based product before investing too heavily in product development. This agility minimizes the risk of investing resources into concepts that may not resonate with the target audience, enhancing the chances of launching successful products.
2. Iterative improvement
Traditional research is often considered a linear path, leaving little room for adjustments once data collection has begun. 
Agile methodologies, however, encourage ongoing refinement and adjustments based on real-time insights. 
Let's say you want to launch a new product package. In a traditional route, you would create hundreds of pack ideas and then do one big pack-testing survey to pick the best one. This route is time-consuming and, frankly, challenging. You put all your hope in one pack design just from one test.
In an agile route, you conduct a series of smaller early tests, which slowly narrow your pool of ideas down to a few of the best ones. With each test, you can review each idea individually, fine-tune them for the next tests and discover which pack design will ultimately drive growth for your company.  
3. Customer-centric focus
Agile market research places a strong emphasis on customer-centricity. By involving customers at different stages of research, companies can ensure that their concepts and ideas are aligned with consumer needs. This customer-centric approach enhances the quality of insights and strengthens customer loyalty and engagement.
How to do agile market research and testing
We've created our own step-by-step process of doing market research the agile way. And it boils down to just these 3 letters:
P - Prioritize winning ideas earlier

O - Optimize strong ideas using consumer feedback

V - Validate potential for incrementality
Our Customer Experience team did a great job explaining each step of this process in our webinar on How to Get More Out of Upsiide: 
How Upsiide can help you do agile research
Our restech platform Upsiide was purpose-built by the research experts at Dig Insights to enable agile research and agile testing. 
Idea Screening methodology
Our Idea Screening methodology is built to address the most important part of agile research: prioritizing ideas based on consumer feedback.
The Idea Screening tool leverages the swiping methodologies of social media, making the survey experience feel like a game. After a study is complete, users can access out-of-the-box dashboards to decide which ideas need to be prioritized first.

Idea Split
Idea Split is the tool you would use to get to the second point of the agile market research process - optimizing solid ideas. 
This tool helps you identify why consumers feel the way they feel about your idea and measure the results against your business metrics. Idea Split can reveal insights about your idea's strengths and weaknesses and even gauge people's purchase intent. 
Market Simulator
The Market Simulator is the perfect tool to check the last point of the agile market research process - validating the potential for incrementality.
In a few clicks, Market Simulator can show where your new idea sources volume or steals share from, to what extent it increases or cannibalizes market share and how you can optimize your product portfolio.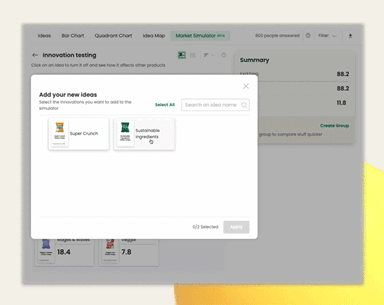 Blueprints
Finally, our Blueprints, or templated surveys, are the backbone of agility. Users can turn their surveys into Blueprints in just a few clicks, or use our prebuilt library of templates, to create repeatable surveys and audiences.
The beauty of Blueprints is that they cut the time you might need to program a whole study from scratch and allow you to iterate studies as many times as you need. That's what we call agile market research!
Agile market research and testing, summed up
Doing market research the agile way may be borrowed from the tech world, but it's here to stay. As the world is developing at lightning speed and brands are required to respond to change quickly, we think agility may be the answer to making research quicker and more efficient.