The innovation economy and traditional market research
Innovation is the backbone of our economy. 
It means that if you want to stay competitive, you've got to come up with innovative solutions fast and efficiently. That sounds cool, but there's a tiny problem - traditional market research isn't famous for being the fastest or most adaptive industry. 
As Dig Insights, our parent company, mentioned in their Reinventing Reinvention guide, traditional innovation surveys were huge, expensive and took months (if not years) to complete. 
Unfortunately for traditional researchers, innovation doesn't like stubbornness. It values agility, flexibility and speed. And that's what we value at Upsiide, which is why we created our restech platform.
Introducing, Blueprints
In simple terms, Blueprints are our customizable survey templates. 
Blueprints make it easy for you and your team to conduct research, create surveys, and gather insights. With Blueprints you have the ability to choose from a pre-saved template, or customize it for your exact needs. Once you have the perfect survey you can save it as a template, and reuse it later on.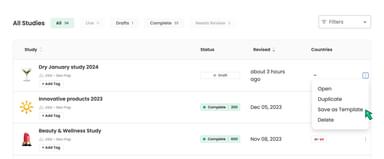 This means you can create templated surveys yourself to tailor to your own research needs, or leverage one of the Blueprints from our library, designed by our expert innovation team.
How Upsiide's Blueprints Reflect the Innovation Journey
Smart people at Dig Insights know that innovation is a step-by-step process and that one survey template cannot solve all business questions. That's why they developed Blueprints for every stage of the innovation journey: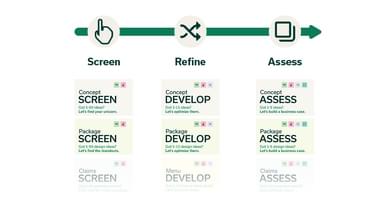 1. Screen
At an early stage of the innovation process, you may have a lot of ideas and want to understand where you should focus your efforts. Our Screen Blueprints can help you see the initial impression of your audience on your innovation and find out which ones people love most and how committed they are to each idea. 
As a result, you'll be able to see which ideas show the most potential to succeed in-market, and which need to be tweaked.
2. Develop
You now have a shorter set of ideas and need some feedback on how to refine them. Our Develop Blueprints are perfect for that task. Besides finding out which ideas need to be optimized, these Blueprints can reveal exactly what needs improvement. 
Thanks to the Idea Split feature within these Blueprints, you can learn how potential customers react to your idea, what they think about it and what you can do to create points of differentiation.
3. Assess
Finally, you are now down to just a few finalized concepts and determine how you can position them in the market to win. Our Assess Blueprints contain questions that will track the performance of your innovations across the entire purchase funnel. 
You'll be able to learn not only how people emotionally feel about your ideas but also how the ideas will play out in your overall product mix and how much market share they will steal from your competition.
Why Upsiide's Blueprints are so good
1. They'll save you time and money
Upsiide's Blueprints are baked into the platform and can be accessed in just a few clicks. When you are on a budget and have a research project that needs to be done yesterday, Blueprints are your real saviours. Just don't forget to upload the ideas you need to test, launch and enjoy the rest of your afternoon. 
2. They're flexible
Customize our built-in templates or create your own - the world's your oyster when you use Upsiide's Blueprints. 
The best thing is that Blueprints allow you to create a solid foundation for your surveys that can be easily shared with your team members. As the research needs evolve, each team member can effortlessly add, delete, or reword questions and sections, ensuring that your surveys stay adaptable and responsive to changing research requirements. Collaboration at its finest!
3. They're researcher-approved
The Blueprints we built on Upsiide have been tried and tested by Dig's expert researchers to make sure that they can answer all business questions across the innovation journey and beyond. 
Therefore, you can be sure that the quality of the insights will be high and that the findings will be meaningful to base real business decisions on. 
Types of Blueprints You Get on Upsiide
Our team has built a whole library of Blueprints that client teams can use for every innovation or non-innovation purpose. 
This library is constantly populated with more templated surveys, but here are some that we have so far:
Innovation Blueprints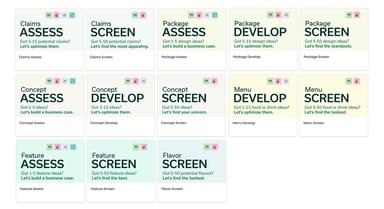 Non-innovation Blueprints

Upsiide's Blueprints in Action
How Advanced Leveraged Upsiide's Pack Testing Blueprints to Develop a Winning Pack Design
Advanced, a producer of gaming supplements, was in the midst of launching a new ready-to-drink (RTD) energy beverage. 
But if they wanted to beat bigger names such as Red Bull and Monster, Advanced needed an appealing package that would lure the eyes of gamers. 
After consulting with Dig and Upsiide's research team, Advanced decided to leverage our Pack Screen Blueprint to test out different pack designs for their drink. As a result, they discovered 2 winning design ideas that showed the most potential and didn't need much revision. 

But the work didn't stop there - what about the competitor brands? Luckily, Advanced had Upsiide's Pack Assess Blueprint. They uploaded the winning designs along with competitor can designs into a survey, customized some questions to fit their business needs and launched the survey. 
The result? The gaming supplement brand found some really compelling insights that proved their viability in the current market and found how much market share they could steal from the competition. 
The survey-making process was done in just 30 mins. All thanks to pre-built Pack Testing Blueprints. 
Curious about how Upsiide's Blueprints?