They say there's no such thing as a bad idea, but the general public would disagree. From McDonald's Mighty Wings to the Taco Bell Seafood Salad, QSR brands' "next big thing" can sometimes turn into a big flop.
The goal of restaurant menu optimization and menu testing is to gather valuable insights that inform strategic decisions and help optimize offerings. Which means that menu testing is a valuable part of any new product launch.
The benefits of using a tool for menu testing
There are lots of benefits to using a menu testing solution throughout your menu innovation process. The main benefits are:
Speed to insight
Using restech to help with menu development and menu screening (where you're testing potential menu items against each other) allows you to have answers to your questions more quickly than traditional market research methods. 
A research tool like Upsiide that is built with the QSR industry in mind can be used to help speed up the testing process, with out-of-the-box menu testing templates ready for you to plug in your ideas.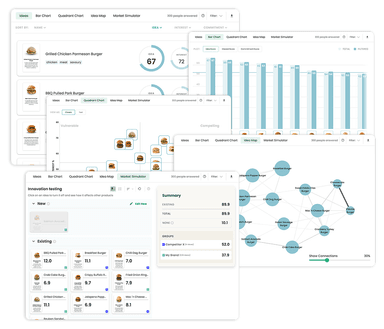 Cost effectiveness
Using an innovation testing tool is a much cheaper option than some of the traditional market testing methods, like focus groups. The remote nature of an online tool means that you can gather insights quicker and at a much lower cost. 
Iterative testing
The best brands on the market test their menu items iteratively. Meaning they make small, granular changes based on insights in order to perfect their products, messaging, creative, and more.
A menu testing tool is the key to iterative testing, as it allows you to build survey templates and audiences, and test your menu multiple times with the same parameters. This allows you to gather more reliable data, and gain more valuable insights.
Mimicking consumer behavior
What consumers say they will buy and what they actually buy can be very different. The decisions consumers make when ordering food and beverage items are complex and can change based on a variety of factors. Consumer decisions are not verbal.
Using a menu testing tool with an idea screen functionality, like Upsiide, gets much closer to mimicking consumer behavior through its use of decision science. Using a swiping mechanism, Upsiide asks consumers to choose between two menu items they've expressed an interest in, which allows us to understand how products will fare in the real world.
Different ways to use a menu testing tool
There are two main functions of menu testing: menu screening and menu development.
Menu screening allows you to refine and validate your innovations based on an understanding of the intuitive and rational drivers of choice vs. in-market competitors. Menu screening takes a measurement of the interest and commitment of your proposed product or menu.
In menu development you can test early stage concepts through to finished items to understand how your customers feel about the product. Menu development includes key measures from all three levels of the purchase funnel, and looks at a consumer's interest as well as the product targeting.
Although there is crossover between menu developing and menu screening, they each serve a distinct function in menu testing.
Idea generation, development, and initial menu concept testing
In idea generation and early testing, you can gather consumer feedback on flavor combos and food concepts without having to spend time or money experimenting in the kitchen. Using a menu testing tool at this stage can provide invaluable insights into the potential success of your new product, and help inform your decisions around moving menu items into development.
Early stage testing, or concept testing, could look at specific flavors or textures, as well as new meal combinations, or improvements to existing menu items.
You could discover your consumer preferences when it comes to:
Crunchy v smooth textures in salad toppings

Ideal burger toppings

Flavor combinations for milkshakes

Gen Z's favorite side dish
Using this early stage menu testing is beneficial for understanding:
Versus in-market options, do people engage positively with your menu innovation?

Are people willing to choose your menu innovation over another item that also interests them? 

What emotional reaction does your menu innovation trigger? 

Who do people think your menu innovation is for? What does your innovation say about the people who buy it?
Product refinement through menu testing
Of course, you may have come prepared to menu testing with 10 already-developed winning ideas. In which case you can test menu items against each other and directly compare results across geographies and demographics using menu screening. 
By using a menu testing solution and refining your new product early on you're able to save time and costs on the logistics of developing, shipping, and educating your employees and consumers on 10 different meals in a test store, just to see which is the most popular and should be rolled out nationally.
If you know that you need a new salad for your summer menu and you already know crunchy textures are more popular with your audience, you can use a menu testing tool to gauge the interest of your consumers in multiple offerings.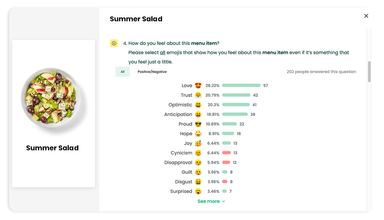 At this stage in the process you can also bring price into the equation and ask consumers about their preferences in menu prices. The context of price can have a large impact on the consumers choices. 
It could be that everybody loves your crispy Canadian maple bacon and organic pecan salad. But if it's $5 more expensive than a regular bacon and pumpkin seed salad… will anybody actually order it? 
Once you've settled on your salad you can test to see if consumers would want the salad on its own or as a side dish. You can discover the ideal bacon to lettuce ratio, which dressing should come with it, and you can even test different product names to see which consumers like the most. 
Using an agile approach to innovation, through iterative concepts tested thoroughly with your target audience, means that you're much more likely to launch a successful product. Afterall, don't you wish you heard customer feedback before you spent millions rolling out a product?
Using a menu testing tool for product refinement can help you answer these questions:
Is your menu innovation clear? If not, what is unclear? 

Does your menu innovation offer enticing advantages vs. in-market options?  Does your menu innovation promise a positive experience?

What changes would improve your menu innovation?
Testing menu range and product impact
Once you've nailed down the product specifics it's time to start testing and refining using menu screening, to make sure your new menu item is set up for success. This allows you to refine your innovations, meaning that you can iterate on concepts until you have the strongest menu item possible.
Our Upsiide Market Simulator was built to help you understand how introducing a new product might impact what's already in-market.
Using a menu screening tool to test for impact helps you understand:
Versus in-market options, do people engage positively with your menu innovation?

Are people willing to choose your menu innovation over another item that also interests them?

What is the optimal mix of menu items to most efficiently maximize potential penetration?

What share or volume do we project? From what in-market menu items does the menu innovation source volume? How much of the volume is incremental vs. cannibalistic?
Menu testing summary
Menu testing is an important stage of the innovation process for QSR brands, and should be used as part of an overall process to optimize your menu, and ensure success.
A menu testing tool like Upsiide can show you that there is accounting for taste.