As a CPG brand, creating a winning product is never enough. You also have to create winning packaging. But how do you create a pack design that will stand out on the shelf, be appealing to the eye, and communicate all your product benefits?.
Let's unpack pack testing.
Benefits of using a pack testing tool
A pack testing solution like Upsiide has tons of benefits that will help you create a winning pack design. Some of them include:
1. Understanding the "why" behind a mockup
As a brand, you tend to be closely involved in creating, reviewing or approving potential pack design mockups. It's pretty easy to get hung up on a specific design you thought should be a winner but didn't perform so well in testing
A pack testing tool will help you break down those biases and really get into the crevices of "why" your mockup is good or… not so good. 
For example, our Idea Split functionality lets you ask specific questions about each mockup. You can ask users what they think are the strengths and weaknesses of a pack design, what they think about it and whether they would buy it. Brands can then compare the results against their own business metrics and make calculated, unbiased decisions. 
2. Comparing how you fare against the competition
The CPG space is saturated with competition. Thankfully, with a pack testing tool, you can measure how your pack design performs against the rival ones, what makes your mockups unique, and how you can improve to steal market share from competing brands. 
Upsiide's Idea Screen tool was made with that in mind. The swiping methodology makes it easy to test your pack designs against those made by your competitors. Our four interactive, out-of-the-box dashboards, which bring the insights to the forefront, make sure you can be confident in your results.

3. From a mockup to a final product in the blink of an eye
Compared to traditional market research methods, a restech platform made for pack screening allows you to get diagnostics about your pack designs almost instantly. This is a significant benefit when you know a new trend is growing among consumers and want to hop on it before anyone else does.
4. Iterative testing
If you want to compete against the best brands on the shelf, you can also iterate your tests as many times as you need. By researching smaller and more granular elements on the package (e.g. creative, product benefits, messaging, etc.), you can optimize your package for better results. 
A pack testing tool like Upsiide is perfect for iterative testing thanks to our survey Templates. Templates allow you to build surveys in a few clicks, saving you time and stress of programming a full-fledged questionnaire from scratch.
5. Future-proofing your product mix
Wouldn't it be great if you could just look into a crystal ball and discover which of your pack designs will bring the most profit? We've got something better than a crystal ball.
At Upsiide, we built a special validating scoring system that allows you to predict how your pack mockup will perform in real life. Learn more about our Upsiide Idea Score.
Different ways to use a pack testing tool
1. Understanding your pack ideas
At an early stage of testing, you will develop (what feels like) hundreds of pack mockups. Some are great, some need improvement, and some might end up in an "idea graveyard." The purpose of using a pack testing tool at this stage is to sort out which one goes where and identify where you should focus your pack design efforts.
Upsiide's Pack Screen Template is perfect for that job. It's essentially a survey template that's built for fulfilling the goal we mentioned above. 
With an early-stage pack testing solution like Pack Screen, you can get valuable insights into these aspects:
Consumer reception: How do people respond to your pack design compared to existing options available in the market?

Interest and commitment: Which pack design do people like the most? Are people inclined to choose your package over other alternatives?
At the end of this initial test, you end up with a few potential pack designs that you iterate with.
2. Refining pack designs with the most potential
Now that you have selected a handful of package options, it's time to identify how you can improve them. That's right. You build another survey. 
This time, an Upsiide Template like Pack Develop would fit better. This templated survey contains questions about how people feel about your package, what they think about it, and how it can be improved.
Some areas you can dive into with a pack testing tool at this stage include:
Emotional impact: What kind of emotional reactions does your package evoke in consumers?

Target audience perception: Who do people perceive as the intended audience for your package? What does their perception reveal about the individuals who are likely to purchase it?
3. Understanding your pack design's impact on your existing market share
Finally, you have identified the best package designs, collected genuine consumer feedback, and iterated on your concepts. Now it's time to test how they perform in real market conditions. 
For this stage, we created a survey template that helps you predict the performance of your message across the entire purchase funnel. The Pack Develop Template is perfect for testing your pack designs against the competition and gauging how strong of an impact it will make on the market. 
These are some of the things you can do with a pack testing tool in your final stages:
Competitive power: How does your pack design fare against other in-market competitors? Are there any points of differentiation?

Market share: How much market share will your pack design be able to steal from the competition?
How Welo used our Pack Design Testing Tool to Develop Snack Pack that Kids Love
If you're a parent or have taken care of children, you probably know that healthy eating and kids don't really mesh. And when you're a producer of healthy snacks for kids like Welo, you have to constantly juggle between making your snacks appealing to children's eyes and healthy-looking for the parents. 
Welo understood that they needed to spice up their packaging to achieve that goal, plus compete against other in-market offerings. That's where Upsiide came into play.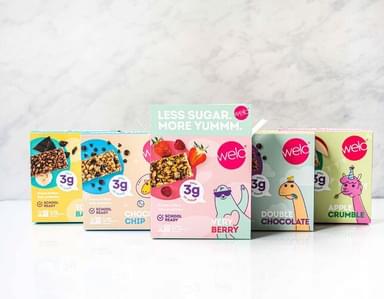 Using Upsiide, Welo was able to identify its position in the market, find winning on-pack message ideas, and develop a pack design that would look trustworthy for parents and different from other brands. 
Upsiide proved that there is a gap in the market for healthy and tasty snacks like ours, just like we predicted. It's reassuring to have reliable data like this. And combined with our experience and gut instinct, we were able to build comprehensive positioning for Welo.
Pack testing summary
Pack testing has many uses and benefits across the innovation journey, especially for CPG brands. It helps you create a package design that not only stands out from others but also resonates with your consumers.
By using a pack testing tool like Upsiide, you can gain valuable insights into consumer reception, identify interest and commitment, predict the pack design's performance in-market and, ultimately, help you design a package that people would pick off the shelf.