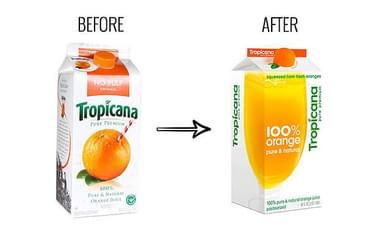 In 2009, Tropicana decided to rejig their orange juice package for the North American market. The company invested $35 million to promote the new packaging design and predicted they'd reach more than $700 million per year in sales revenues. 
However, only a few days after the release, Tropicana's packaging started getting a lot of criticism from their loyal customers. Many of them sent disapproving emails and letters, saying that the new packaging was "ugly" or looked like "a generic bargain brand". 
It became clear to Tropicana that their customers seriously valued their branding and packaging - they'd put a lot of stock in it over the years. And so they decided to go back to the original design, though this decision came at a cost. The company already lost 20% of their sales with the redesign and a total of $50 million for the whole initiative.
Wouldn't it have been great if Tropicana could have saved time, heaps of money, and a nasty bit of bad PR by testing their new packaging prior to launching it? If the company invested some time and money into package design testing throughout the revamp, they would have been able to better predict how their target audience would respond to the change.
But Tropicana is just one example. To further illustrate our point, we've included 10 reasons for why testing package design matters and why you should include it in your innovation process.
What is package design testing?
When you test package designs, you are screening and evaluating a few different ideas for your product packaging. Usually, you'd want to do package design testing when you are launching a new product or are revamping your existing packaging.
What can you test in packaging design?
Usually, a package contains a few things on it, which means you can test a variety of things:
Colours - which colours and colour combos do your target audience like most?

Imagery - what sorts of pictures and images does your customer find the most appealing?

Claims and messages - which words and phrases are likely to attract consumers' attention?

Logos and branding - how does your target market react to your logo's placement on the package?

The shape of packaging - if you want to experiment with a few different shapes for your package design, which ones are intuitively preferable?
The fact that package designs have so many components makes the testing process iterative. 
Why do you need package design testing?
1. Find the best package design
When you test your design ideas, you ultimately find the one that works best for your target audience. Package design testing allows you to eliminate ideas that aren't appealing, optimize the ones that slightly miss the mark, and ultimately find the winners.
2. Know what different audience groups want
Your target market isn't uniform, therefore the "one size fits all" approach won't work in this case. A package design test will help you find specific customer segments that are being underserved and identify their niche needs.
We did some research internally to demonstrate what we mean. When we tested different sustainability claims on food and beverage packages, we found that the "USDA organic" claim had a small but loyal group of fans who continued to pick the claim over other claims. This insight showed us that there was a market of consumers who especially liked claims certified by official authorities. Perhaps, this claim gave them a sense of trust and evidence that a product is in fact healthy.
3. Learn which aspects of your package design people like or dislike most
Since you'll be testing different elements of your package, you'll learn which of them are weaker than others. Perhaps your image is great, but your claim doesn't live up to it. Maybe you need to fine-tune your colours to create the right associations in your customers' minds. These little things matter in package design as they foster positive brand perception and help drive purchasing decisions.
Last year we tested packages of different plant-based nuggets brands. We found that many respondents were confused by the image on the Nuggs nuggets package. One of the sentiments we found was "Why are you feeding a nugget to a chicken!!!???". It was evident that consumers were surprised by such a unique design decision, which consequently took their purchase intent down. 
Discover what other findings we made in our study of plant-based protein brands here.
4. Save money and time
We can't say it enough: so much time and money can be saved by testing your package designs. Even though packaging research might require additional R&D funds, you can be sure that you're not going to end up spending millions on a design that doesn't work(Tropicana learned this one the hard way). 
And once you know what kind of package design your customers like, you'll save time on actually designing it, meaning that your design team or agency will be able to focus on the right things and spend less time reworking what's been done.
5. Make faster decisions
Saving money and time means that you can streamline your innovation process. With data to back up your decision-making, you will know that you're on the right track. This benefit is particularly important for anyone working in a fast-moving industry that needs to stay on top of consumer trends.
6. Test design options in a contextual and relevant way
When using research platforms to test ideas, you are often left wondering, what exactly do people like about the packaging and how do I know what a good result actually is?
Luckily, Upsiide's methodology clearly lays out how your design options perform against each other. You can even include in-market designs to test alongside your new directions with no added cost. That means you're never left wondering if the package designs you tested performed well - it's all contextual. 
7. Persuade your team and investors
Numbers matter. They give you the power to back up your arguments and can often be a strong driver in the decision-making process. Since your package design tests will bring you quantifiable proof, you can use them to make a persuasive argument to your colleagues and even attract potential investors to press forwards with the right design choice.
8. Find ideas for future innovations
Your test results will reveal ideas that performed well and not so well. But don't you think that the latter group isn't worth anything. Just like with concept testing, we don't like to think that lower-performing ideas are bad. They're simply not as good in their current form.
So what do you do with those ideas? Save them! Create a folder with all of your package designs that performed okay, but didn't perform as well as others. Consider the "opportunities for innovation". When you're creating another product line or looking to reposition your product again, come back to the folder. You're already going to have some idea of which designs your audience liked most, so you can apply this knowledge in your re-designs or new products. 
You can use these previous designs as a launchpad for future innovation work, incorporating them into a new round of testing. That's the formula to a successful innovation program.
9. Find opportunities to fine-tune other marketing collateral
Package design testing is a great opportunity for you to discover ideas that you may use in other marketing materials beyond packaging. 
For example, you might find out that a specific claim on your package resonates a lot with your target consumers. And vice versa, you might realize that an image or a claim that you've used in every package and marketing collateral doesn't work as well as you thought it would. 
These discoveries will allow you to identify new ideas for messages, ads, visuals and other marketing elements that can enhance and focus your brand image.
10. Go-to-market with confidence
Finally, testing packaging design ideas will help you be confident in your decisions. You'll know that your final choices are backed by real numbers and public opinion. You'll also discover that you also have other packaging options if needed. You can be sure that your designs stand out from the competition and translate the functional and emotional benefits of your product.
Example of a brand that succeeded in package design testing
Welo produces kid-friendly snacks and drinks that contain probiotics. At its inception, the brand wanted to create nutritional products to help children and their parents to stay healthy easily. 
Katie McKinnon, the co-founder of Welo, has spent a lot of time researching the types of vitamins and ingredients that every kid should consume. She discovered that there was a market for snacks that contain probiotics, which is why she and her co-founder created a whole line of kids' products with probiotics,  using "probiotics" as a leading claim on all of their drinks and food packaging. 
However, parents didn't seem to resonate with the messaging, Welo's products weren't getting picked up in supermarkets. So Welo came to Upsiide to test their packaging against other in-market competitors. The package design test revealed that parents weren't actually that interested in the "probiotics" element on Welo's packages. Instead, they cared more about the way the energy bar looked and the flavours, among other health claims. 
Upsiide's package design test helped Welo rejig its messaging hierarchy and branding,  discovering winning packaging ideas for its target market.
Read Welo's full case study here.
To sum up
Package design testing is a small investment that ladders up to bigger wins over time. If you want to learn how Upsiide can help you find package ideas that consumers will love, drop our team a message. We'd love to show you around.