Creativity is seeing what others see and thinking what no one else ever thought.
Einstein's quote is emblematic of a larger point - how design thinking can and should be applied to the product development process. You acknowledge what's already been done before and creatively develop new ways of making a product or solving a need.
Beyond Meat, Spotify and Airbnb are great examples of brands that think creatively about their product offerings - this helped them revolutionize their respective industries. In this article, we're going to share how design thinking shows up in product development and discuss how brands can leverage it to do better work.
What is design thinking?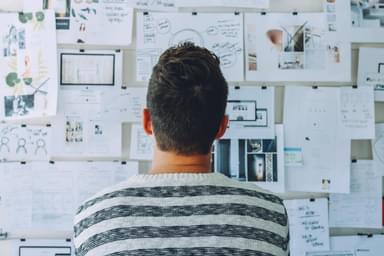 Tim Brown, CEO of the design firm IDEO and a pioneer of the design thinking method, gives us his definition:
Design thinking is a human-centered approach to innovation that draws from the designer's toolkit to integrate the needs of people, the possibilities of technology, and the requirements for business success.
So, basically, it can be used to answer these 3 things:
What makes sense to people and for people?

What is likely to become part of a sustainable business model?

What is technically possible in the foreseeable future?
Design thinking is often associated with another framework called Creative Problem Solving (CPS). The main difference is that CPS is used to develop innovative ideas in a less structured way. In contrast, design thinking ensures an organized approach. But more on that in the next section.
The most important thing to remember is that the design thinking process begins with empathy for the customer and understanding their unmet needs. It sees problems from the customer's perspective rather than the company's, questioning assumptions and reimagining solutions.
When applied to product development, design thinking leads to innovations that delight customers and disrupt industries. It fosters an environment where creativity thrives, "what if" questions are encouraged, and failure is tolerated as a step toward success.
Stages of design thinking & applications in new product development
There are 5 steps involved in design thinking, and here's how we think they can be used to develop product concepts.
Stage 1: Empathize
This is the stage where your product development team puts themselves in users' shoes to truly understand their needs and desires.
But what does it look like in practice? Well, to empathize is to research. Teams should constantly remind themselves to question everything they observe instead of having personal judgements. They must listen to others with an open mind rather than focusing on points that confirm their biases.
The goal of empathizing is to acknowledge users' motivations and barriers to use before the team can work towards delighting them through design.
Here are some ways your team can apply empathy: 
Observe real users - ask yourself, "What do they do? Why do they do certain things (emotions/motivations)? How do they do it (level of difficulty/clarity etc.)?

Conduct in-depth Interviews and engagements with your most frequent users - if you can add value to them, you can also add value to other users.

Collect and share the most exciting user stories to inspire the product roadmap (those can be photos and video journals that recorded their experiences)

Create Customer Journey Maps to track the whole product experience.
You can gather all your thoughts in a big Empathy Map with your team. This map can help you sum up the learnings from user engagements and help you construct user personas afterwards. Miro has an excellent template for this, but you can create your own map tailored to your exact needs.
Stage 2: Define the problem
In this phase, the team needs to analyze, sort and sequence all of the information in a way that will help them define the problem better. The goal is to develop a critical problem statement.
Here are some tips your team can use to define a problem: 
Make it human-centered - frame problem statements from insights you've gathered about users and their needs

Have the right scope - shape the problem in a way that's broad enough to allow for creative freedom. You don't want to concentrate too narrowly on specific methods for implementing solutions or describing technical needs. But also make it narrow enough to be practicable, so you can eventually find specific solutions.

A good problem statement should be simple and easy to understand. A 1-sentence structure like the one below would work well:
(User) needs a way to (outcome) because (driver).
Stage 3: Ideate
Now that your team has a problem statement, you can start brainstorming product ideas. There are many methods for idea generation - here are some that we find useful:
Sketches / Sketch storming - i.e. sketching ideas on paper

Brainstorming - i.e. building good ideas off each other's ideas

Brain dumping - i.e. brainstorming at an individual level

Challenging assumptions - i.e. overturning established beliefs for a fresh perspective

Using Generative AI - i.e. leveraging something like ChatGPT to come up with potential ideas.
Learn more about how AI can help you to create innovative product ideas in this article.
6. SCAMPER
We explained this method in our previous blog post. Essentially, SCAMPER allows you to look at innovation from different positions. Each letter stands for a different verb that forces your team to focus their efforts:
Substitute - come up with alternative solutions to the idea

Combine - think how ideas can be merged

Adapt - adjust or tweak ideas

Modify, maximize and minimize - can the idea's elements be adjusted in size?

Put to another use - change the context in which the idea exists

Eliminate - remove an element to make the idea better

Reverse & rearrange - change the order of the idea's elements
Stage 4: Prototype
Prototyping is an experimental model of a proposed solution. Prototypes can be a cheap and easy way to test or validate ideas, design assumptions and other aspects of a concept. They don't need to be finished, and in fact they shouldn't be!
Sometimes, prototyping might be pretty simple (e.g. a simple sketch or a concept description). We recommend our clients gather some product concepts even when they aren't fully fleshed out. This way, they don't have to spend days prototyping something that will not end up being chosen in the final iteration.
Here are some tips your team can use to create prototypes:
Storyboards

Sketches/diagrams

Concept descriptions

Physical models
Stage 5. Test
Finally, it's time to put your ideas to the test. The main goal of testing ideas is to land on a final concept that would solve the problems that your target audience is encountering 
Thankfully there are some great tools out there to screen ideas fast while also generating high-quality insights from users. This allows product teams to test ideas iteratively and make decisions quickly.
With Upsiide, you can build, launch and get results from idea screening studies in a matter of hours. And our easy-to-use dashboarding systems allow brands to understand and gauge the potential performance of their concepts in-market. It's a perfect tool for anyone looking to combine design thinking with product development.
To round up design thinking…
Design thinking is an exceptional approach to innovation that combines empathy for the customer, brand new innovation, and business success. By applying the steps of design thinking, product development teams can create products that are not only functional but also delightful and potentially disruptive. 
At Upsiide, we offer tools that can help you test your ideas and make decisions quickly. If you want to learn how we can help you harness the power of design thinking for your product development process, start your free trial now or contact our team.