What do KFC, McDonald's and Burger King have in common? Besides being some of the world's most prominent leading quick-service restaurants (QSRs), these brands also share similar circumstances when it comes to how they were founded. All of these companies were formed during some form of crisis. 
Many famous business people talked about the value of limitations to foster innovation, which all boils down to this: "Constraint powers creativity." 
Sometimes those constraints can be beneficial for product innovation (something that many tech-driven companies practice today too). But sometimes, these constraints can inspire someone to build entire companies that operate in a different and novel way. 
In this new series of blog posts, we want to unveil the history behind some of the most iconic brands that were born out of challenging situations like wars and recessions. And the first industry we want to explore is QSR. 
Let's get started!
KFC and The Great Depression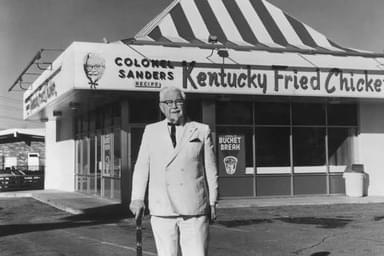 To understand the history of KFC, you need to understand the story of Colonel Harland Sanders (yes, the one you see on the KFC logo). 
Sanders is the perfect example of determination despite all challenges. He took jobs as a laborer, railroad worker and insurance salesman. He even tried out his business skills by opening a ferry boat company and managing a Shell gas station. 
It wasn't until he turned 40 that the Colonel decided to acquire a motel in North Carolina and sell fried chicken from an adjacent restaurant. The Great Depression and the looming Second World War led to the motel's closure. But Colonel Sanders was motivated to find a way to make his fried chicken stand out from the competition. 
He experimented with different cooking techniques and used various herbs and spices for flavor, ultimately perfecting his signature 'Original Recipe' in 1940. He even experimented with alternative ways to cook chicken; he patented a cooking method using the pressure fryer, which made his chicken both tender and crispy (yum!).
Besides being an innovator at heart, Sanders also ended up being a great marketer. He traveled a lot to promote KFC, visiting cities across the US to tell people about his restaurant chain. His unique appearance and enthusiastic personality made him an unforgettable figure in American food culture. Fast forward to 2023, people still enjoy KFC's delicious fried chicken in 27,000 restaurants in over 145 countries. 
Colonel Sanders' story shows that determination is a powerful asset when you're setting out. It'll force you to think outside the box, even in the face of a Great Depression. It's the reason we've all enjoyed a bucket of fried chicken at a BBQ. 
Burger King and The Recession of 1953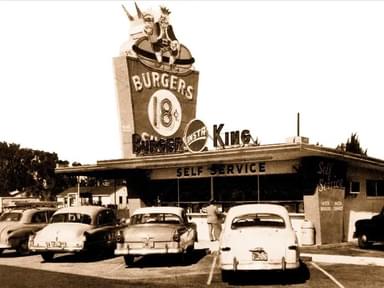 Crises like a recession are horrible, but they can be a great opportunity for newcomers to enter the market. The history of Burger King is a perfect example of this.
The recession of 1953 (and the Cold War, for that matter) caused lots of big corporations to cut costs, which meant less innovation. After seeing an opportunity to make something different in the space, Keith J. Cramer and Matthew Burns decided to open a fast-food restaurant in Jacksonville, Florida, calling it Insta-Burger King. The whole premise of Insta-Burger King was that the burgers were made with "Insta-broiler" ovens.
Meanwhile, two college friends, James McLamore and David R. Edgerton were "brewing" up some business plans. Though they were inspired by the success of the McDonald brothers, they thought there was an opportunity to do something different from McDonald's assembly-line production system. So, in 1959, they bought Insta-Burger King, and that's when the real work began. 
The new owners revamped the company's image, invented mechanized gas grills to replace the Insta-broilers and eventually sold it to the Pillsbury Company. Throughout the decades, the Burger King corporation experienced many ups and downs, one of which was the continuous "Burger Wars" with their direct competitor, McDonald's. 
Throughout the decades, the two burger brands competeted in a rivalry and Burger King always found a way to be different in some way. Whether adjusting their offers to contrast McDonald's or making elaborate ads, Burger King managed to counter the competition and become one of the leading burger producers in the world, with 18,700 locations in more than 100 countries. 
We think Burger King's example shows that there's always an opportunity to innovate, despite constraining moments like a recession or when you have a competitor in the market. While Burger King was similar in its offering, it still found a way to do something just as different as McDonald's, but in a unique way. 
McDonald's and World War II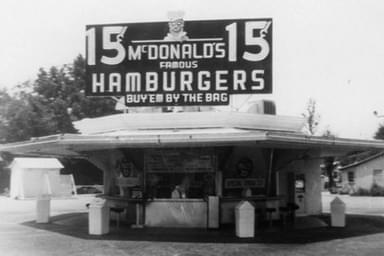 Not many people know that McDonald's was actually a product of World War II. The company was founded by two brothers, Dick and Mac McDonald, in 1940 as a hot dog stand.
After realizing that most of their profits came from selling hamburgers, the brothers went into streamlining their operations and introduced their Speedee Service System, featuring 15-cent hamburgers. This system included a self-service counter which meant no waiters or waitresses were needed. Visitors got their food quickly because hamburgers were pre-cooked, wrapped and kept warm under heat lamps. 
This innovative approach turned out to be super successful (I mean, they still use it to this day!). But it was especially beneficial during World War II. With wartime travel restrictions, people were stuck in one area and looking for places to eat that offered affordable prices - this gave the McDonald brothers an edge over their competitors.
Besides, the demands of war meant a large influx of personnel who needed food at a moment's notice - another factor that helped McDonald's become successful during this time. The military's vast presence created a market for relatively cheap and quickly prepared meals - which McDonald's could easily meet.
By 1954, McDonald's had over 300 restaurants operating worldwide, paving the way for it to become one of the most recognizable brands in the world. And now, people can see the famous golden arches in 38,000 restaurants in over 100 countries.
We think the history of McDonald's shows that challenges can foster creative solutions. The brand's systematic approach to making delicious food aligned with how people wanted to get their food back in the day (and to this day). It revolutionized the way we order from fast food restaurants today. 
Constraints really do foster creativity
Each of these examples demonstrates not only the value of guardrails or restrictions but also the importance of staying positive and single-minded about what it is you're trying to build. We'll be sharing more examples of brands born during challenging times, so be sure to keep an eye on our blog.