Top 5 sportsbook adoption incentives (according to Canadians)
"Collect Bonus Points"
Earn loyalty points on every wager, redeemable for site credit.
"Sign Up Bonus"
Get site credit when signing up.
"Free Casino Chips"
Sign up and get free online casino chips.
"Risk-free Bet"
Get your money back or receive site credit if you lose first bet.
"First Deposit Match"
Get your first deposit matched with site credit.
Uncover attitudes & behaviors towards sports betting in Canada
In this 30-minute webinar based on an extensive study of Canadian consumers, you'll learn how consumers are responding to the legalization of single-event sports betting.
Our study templates help you isolate top performing messages
Discover which messages to use and when. Use our playbook, or build your own and get results within a few hours.
How Upsiide works
1

Choose a Blueprint

No need to start from scratch. Select a study template created by researchers in-house, add your stimuli, and press publish.

2

Target the right audience

You have access to 44M global respondents in-platform. Select who you'd like your study to go to and drill-down further with custom questions.

3

Launch your study

You can expect your study to generate responses within minutes, with the majority of studies closing within 12-24 hours. Go on, sit back and relax.

4

Uncover insights

Now the fun starts - we've got 5 reporting dashboards that help you squeeze insights out of your data. Whether it's prioritizing ideas or better understanding motivational drivers, we've got you covered.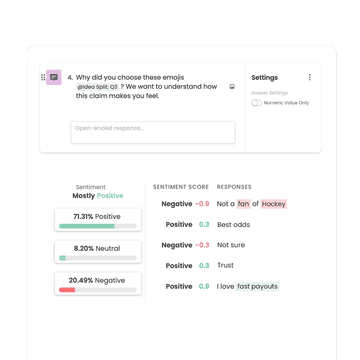 Get detailed qualitative feedback.
Our open-end question type adds a human dimension to your data. After respondents leave feedback about your ideas, Upsiide NLP analysis will automatically conduct sentiment analysis and find actionable patterns in the results.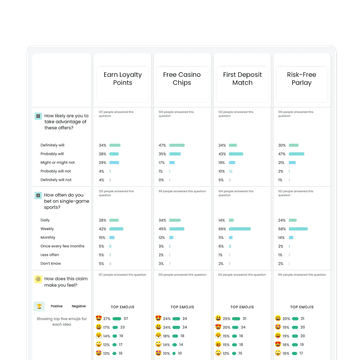 Discover why respondents like or dislike your message.
Why does one message perform better than the other? Why should you prioritize one message over another? And why does this matter to your business? Idea Split will give you the answers.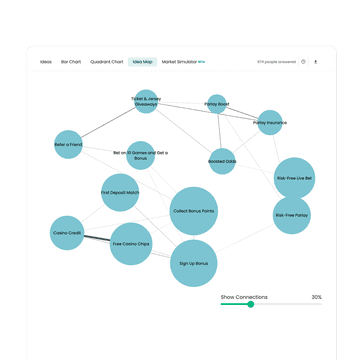 Explore connections between different messages with the Idea Map.
The Idea Map helps understand how your messages relate to one another. This visual is powerful, it'll spell out competing clusters of messages and find opportunities for differentiation.
Get a personalized demo
Schedule a product tour with one of our experts and get an overview of the platform.
Don't just take our word for it...
I love the Upsiide tool because it gives my team the ability to test concepts that they may not have had the opportunity to test otherwise. In a category like ice cream, where innovation drives growth, there are always so many ideas in the pipeline and Upsiide allows us to have quick consumer feedback to make quality decisions quickly.

We've saved money, a lot of money. Before Upsiide, if we wanted to test 30 ideas with a traditional agency partner, we would spend tens of thousands of dollars.

And the amount of time that you would need to wait for the results to come back would mean weeks lost. Upsiide has saved us weeks of waiting for results and allowed us to act on key insights right away - while saving valuable budget.

The thing that is most beautiful to me about concept testing on Upsiide is that the forced choice methodology doesn't just tell you whether consumers like or dislike a concept, it simulates real world decision-making.

I know how dependable the data is that comes from a 'forced choice' study experience. If you're working with a limited insights budget, this methodology means you won't have to trade off on the integrity or sophistication of a larger quant survey.

The human Insights team looked at all initiatives we have done this year globally. Everyone voted (including senior management) and determined that Upsiide is #1 our biggest success of the year. To get something like this up and running in such a short period of time is phenomenal. It was my best experience working with an agency.
5 dashboards make uncovering insights easy-peasy.
Upsiide gives you access to four interactive dashboards to analyze your results. This includes a quadrant chart and an idea map, both of which help you visualize how your ideas performed and the underlying structures that link groups of them together.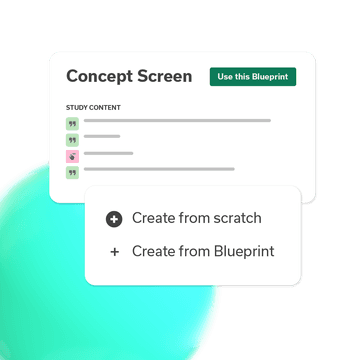 create
Build a study.
Creating a study isn't scary anymore. With Upsiide's intuitive user interface and templated studies, you can get going easily.
Take advantage of 5+ question types, preview functionality, in-platform translations, and ready-to-go study Blueprints. You'll be off to the races in no time.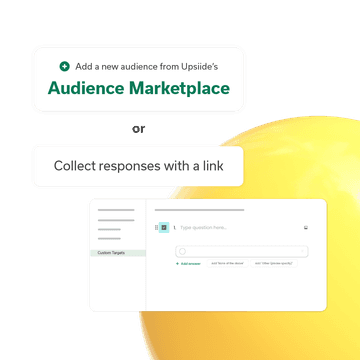 TARGET
Select the right audience.
Upsiide's Audience Marketplace connects you to 35M+ people across the world, with built-in demographic info that helps you target the right people. If you need to screen people into your study based on preferences or behaviors you can use custom questions too.
Once you're done, save your audience as a Blueprint for fast study creation in the future.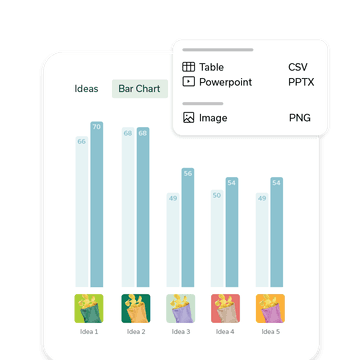 Analyze
Surface strategic insights.
Not only do our standard 4 results visuals make for fast and actionable answers, but our dashboards move beyond tactics into strategic business decisions.
Want to export your results to CSV to work offline? Feel free!
Contact us to learn more...
Find out why forward-thinking companies use Upsiide to bring certainty to their innovation process, and achieve their near and long term goals.