Project Summary
The Client

The client is a real-estate agency that leverages technology to transform the buying and selling experience.

The Challenge

The challenge presented to research was to identify messages that resonate best with the client's customers.

The Solution

We worked with the client to test a variety of messages.

The Impact

The client was able to optimize their messaging hierarchy and confirm their hypotheses about customers.
The Properly Proposition
Understanding what drives people to buy houses is a challenging task, especially when you're a new player in the market. However, if you know why your customers move and what they are looking for when choosing a brokerage, you can set your business up for success.Buying a new house is a stressful endeavor for many people. It involves signing numerous agreements, negotiating with banks to take out a mortgage, and searching for a decent place before it gets scooped up by someone else. The anxiety then rises further when you're trying to sell your current home and have to deal with tidying up, arranging viewings, and bargaining with new buyers on the price.
That's why Properly entered the market. Properly is a tech-enabled real estate brokerage firm that wants to change the way the industry operates. Having been established in 2018, the company's mission has been to put the consumer first ever since.
Jessica van Rooyen, the VP of Marketing at Properly, describes the idea behind Properly's unique model:
We're focused on bringing simplicity and consumer centricity to the buy and sell process. What we offer helps rearrange the transaction into a way that just makes more sense for the consumer.
Properly stands out from other brokerages because they have a unique model for buying and selling. Properly offer a contract called a Sale Assurance contract that allows clients to get their dream home before they've sold their current one. The contract helps customers access equity for their current house, secure financing, and move into the new property and sell the old house at the best price without stress.
It's evident that Properly spent a lot of time thinking about their customer. Having gathered preliminary feedback from the existing clients, they were able to create a model that answers all the biggest challenges that home buyers and sellers face.
But what can Properly do next to better understand their customers, attract new customers, and prove the informed assumptions about their customers with quantifiable data?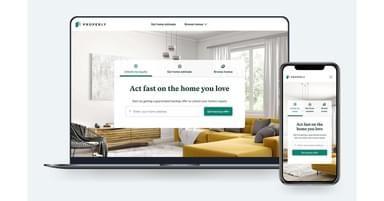 Properly's Challenge
As a newer business, we were looking to take that next step and move from qualitative insights to some real quantitative insights that could help us to inform longer-term strategy, versus just relying on what we had seen in the market today or consumers that we'd interacted with so far.
Learning what customers want and how your business model fills in that gap is a common problem that many companies have to solve.
Having analyzed their current systems, Properly came up with three goals they want to achieve:
Better understand moving triggers
What drove people to move? Is it a certain life stage or event? Is it something else?
Better understand the factors that affect the brokerage selection
What is guiding people to choose a specific brokerage? When it comes to making such a big decision, what do people consider when they evaluate who they work with?
Better understand the most critical pain points that exist in the real estate transaction space
What are the struggles that consumers face? How can Properly communicate the right messages to prospective customers and help them solve those problems? 
Upsiide's Solution
Upsiide, Dig Insights' innovation insights platform, was the perfect tool to help Jessica and her team at Properly achieve their goals. The Upsiide methodology and the scoring process that Upsiide uses helped Properly set up a study that analyzed their customers' behaviours, preferences, and decision-making processes.
Properly's team uncovered valuable insights that tested many hypotheses they had about their customers. Jessica noted,
We thought there would be more differences when we looked at geography based on the realities of each market. It was interesting to see that there were less stark differences across all three question areas than we were anticipating.
Jessica also spoke highly of Upsiide's dashboard: 
The platform was incredibly intuitive to use, and the results were even easier to analyze. Within a matter of hours, we knew which messages we should use with specific audiences, and when those messages would be most effective. Brilliant.
When she received the results of the study, Jessica enjoyed using the filtering option;
It's just powerful to be able to break down the data based on the real estate experience questions that we asked. Seeing how all of the responses from triggers through to drivers of choice and pain points change based on those filters is amazing.
Properly's Future
So how will Properly use the data gathered from their study to set themselves for success?
The results helped them identify the ideal messaging hierarchy to fold into their marketing communications and positioning. With this data to-hand, the marketing team has what they need to go-to-market with optimized messaging. Jessica spoke highly of the certainty the Upsiide study brought her and her team; "We now have a clear idea of how to structure and prioritize our messaging at every stage of the funnel".
Finally, Properly now knows about the markets they can tap into in the coming years. Jessica is confident that the results will help the business expand geographically within new target territories.
We're excited to hear more from Properly as they roll out their ambitious plans. Jessica noted that she'd love to use Upsiide again, and we'd be delighted to work with her team in the future.
If you want to know more about Properly or follow their growth, check their website. 
Want to try out Upsiide? 
Our team would love to meet you.