Innovation pipeline management can be a tedious task. It suggests that you must think of every detail in the product development process, genuinely understand your customers' needs and involve as many stakeholders as possible to make decisions.
And often, getting preoccupied with the early stages of the innovation pipeline process is easy. You might get soo preoccupied that you forget about the later stages - i.e. the stages that define the success of your new product.
Before we explain what we mean, let us explain how the innovation pipeline works.
A Sample Innovation Pipeline Diagram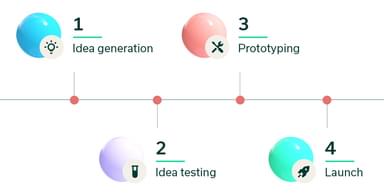 The innovation pipeline is a stage-gate process that defines the stream of new product ideas an organization is developing or refining. The pipeline organizes the product innovation process and sets the company's milestones (or stage gates).
Generally, every business has its own variation of the innovation pipeline, depending on its business goals and resources. But having worked with tons of clients at Upsiide, we believe a typical innovation pipeline contains at least 4 stages:
Ideation/idea generation - the process of coming up with ideas.

Idea testing - the process of testing the chosen ideas, including prioritization, optimization and projecting source of volume and incrementality.

Prototyping - the process of developing a preliminary version of the final product.

Launch - the process of releasing the product into the market.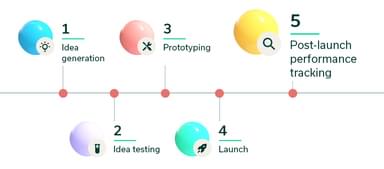 While these stages seem self-sufficient and cover everything to create a successful innovation, we think there's one more important stage that should exist in the innovation pipeline; Post-launch performance tracking. Post-launch performance tracking is pivotal to helping you manage your innovation pipeline on an ongoing basis. 
What is Post-Launch Performance Tracking?
Imagine this: you've launched a brand new chocolate bar. You spent time and money researching which flavors and textures people like, testing different recipes, and developing the bar with the healthiest ingredients. You even hired a cool marketing agency to create buzz around your new chocolate bar.
And now that the product has been launched and distributed, everything seems to be working smoothly. The chocolate bar is popular and retail sales are growing. So you happily report to your manager that the launch has been successful.
But here's a question - are sales really the best metric to measure the success of your product? While it's great to see that people are buying it, the number of purchases shouldn't be the only metric to rely on. 
You should also understand why people are buying your product. What inspires initial purchases, and what inspires recurring purchases? Are consumers having a good experience? How does your product compare with your competitors? And is there something else you could do to improve the product/market fit?
Those are some of the questions that you should ask after a product launch. This process defines Post-launch performance tracking. 
How Post-Launch Performance Tracking Will Help The Innovation Pipeline Management Process
Here are a few reasons why Post-launch performance tracking will help you better manage innovation projects. 
Post-launch performance tracking will explain the "why"s
Knowing why sales are increasing or decreasing is a superpower. It can show people's intent, goals and motivations, and the problem (or a job) they're trying to solve. Communicating with current and prospective consumers upon launch allows you to get a glimpse into the drivers and barriers to adoption. We promise that their responses will get to the crux of your innovation's true value.
2. Post-launch performance tracking will give you a more realistic view of the product's benefits and flaws
It's often easy to rely on sales and profit data. But it can also be misleading on a larger scale. For example, while it's great to see that lots of sales are coming through, your product might not have gained as much market share as you expected. Or it didn't outcompete the new startup that has just entered the market. Having data that speaks to these questions will help your innovation team diagnose the idea's true success and understand whether you may be leaving money on the table.
3. Post-launch performance tracking will show you where you could have done better
The purpose of the innovation pipeline is to help you structure the launch of your innovation ideas. And we think that Post-launch performance tracking will help you achieve that goal. It can show you where your product did well and where you need to go back and tweak a few things. Perhaps the issue lies not in the product, but in the fact that you didn't get enough support financially or time-wise. Perhaps your regular and promo pricing strategies have not been optimized. Or maybe it's in your marketing efforts, they might not have captured the true value of the product itself. The Post-launch performance tracking process will help you determine what you can do better in the next innovation program. 
Metrics and Questions To Include in the Post-launch Performance Tracking Survey.
Generally, you can execute Post-launch performance tracking by developing a questionnaire and then surveying the market upon the launch of the product. Consider executing your research on a weekly, semi-weekly or monthly basis through a short online survey.
To help you get a sense of what metrics you can track in the survey, we highlighted 4 key questions/areas that you should ask yourself.
Awareness - e.g., Do consumers know your product exists? Does your target consumer know it's available and where to find it?

Trial - how many have tried your product? What were the triggers and barriers to trial? What needs or occasions did it satisfy?

Repeat - did those who tried the product, purchase it again? Why or why not?

Recommendation - would they recommend the product to their friends or family? Why?
To sum up
Learning from your innovations in-market performance can play a pivotal role in informing go-forward innovation, diagnosing barriers to trial and determining if the product is hitting the mark with the intended audience (or not!). All these insights are great to take into the next round of ideation as the process starts all over again.
If you want to learn how to start building an innovation pipeline, this article will give you step-by-step instructions. And don't forget to always come back to your ideas after launching a product - you'll continue to ensure you're delivering the best products that align with customers' needs.