These couple weeks before the American Thanksgiving have been eventful in the crypto space. And just like typical Thanksgiving dinners, the crypto industry was a bit of a mess. 
What's up with FTX
You've probably heard and read it all already. But for those who're new or just need a recap, here's the skinny:
FTX.com, the world's third-largest crypto exchange, went bankrupt overnight. The company was created by Sam Bankman-Fried in 2019 and quickly got popularity and support from celebrities like Larry David, Shohei Ohtani and Naomi Osaka. These celebs, along with another 1.2 million users, got access to FTT, a special token issued by FTX, which allowed them to get lower trading fees (like what you get in a loyalty program).
Source: Bloomberg
Bankman-Fried also had another company, a hedge fund called Alameda Research. Together with FTX, the companies were valued at $32 billion. But a few weeks ago, CoinDesk revealed that half of the Alameda and FTX money is actually held in those FTT tokens. This meant that if something were to happen in the space and those tokens got de-valued, all those users would lose their money too.
Enter: Changpeng Zhao (CZ), founder of Binance. CZ also invested in 2 billion of those FTT tokens at FTX (which is a lot). But after seeing the CoinDesk report, CZ decided to sell his FTT tokens, which meant that the value of those tokens would go down too. So, people being people, started panicking and selling their FTT tokes, too, not realizing that the value would go down even more until it went to 0.
Bankman-Fried tried to get some support from CZ to get Binance to acquire FTX. But in the end, this fell through, and FTX had to file for bankruptcy. And all those people who had FTT tokens never got their money. 
So yeah, it's a mess. And now, the crypto space is experiencing a problem that people just don't trust to invest in crypto. So we decided to investigate how people feel about crypto today, what experts think and what the future holds. 
A study on the state of crypto
Our co-founder and President, Ian Ash, spoke to Luke Jacobi from Benzinga, a personal finance, investing, and trading company. Ian talked to Luke about what happened at FTX and presented a new study conducted on Upsiide on the state of crypto today.
Here are some details of the sample:
Base size: 1000

USA

18+

Male and female
So what did we ask in the survey? First, we wanted to know how aware people are of cryptocurrency and if they trade in crypto themselves. Then, we asked how Americans felt about the FTX scandal. And finally, we did an idea screening exercise to determine the most important reason people invest in crypto.
1. Overall, the general public knows about the FTX scandal
Crypto is a pretty niche topic, but it looks like the general population has heard about the scandal. 41% said they've seen or read news about FTX and Sam Bankman-Fried. Knowing that the story is only a few weeks old, it's impressive that such a high percentage of  Americans had heard about it. That just shows how massive the scandal was. 
We also asked respondents how they would explain the story to someone who hadn't heard about it. Some responses include:
"Bankman-Fried owned one of the largest crypto exchanges. He transferred money from this company, FTX, to cover debt at another company he owned, causing FTX to go bankrupt, resulting in huge financial losses to it's investors."

"There has been an excessive amount of financial loss involved where this was promoted by celebrities."

"From my understanding, the price of crypto fell dramatically and the company was unable to pay investors and declared bankruptcy."
2. Almost 50% have a more negative impression of crypto now
When stuff like this happens, it's almost inevitable that people's opinions on crypto will change. When we ran the study, 49% of respondents said that the FTX scandal changed their impression of the crypto market for the worse. Tough love, I guess.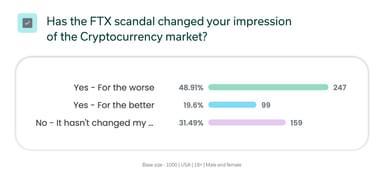 3. People think crypto should be more regulated
This one kinda relates to the previous one. We asked respondents to tell us how much they agreed or disagreed with some statements. And we found some outliers. 
65% completely or somewhat agree that "cryptocurrency exchanges need to be more regulated." Likewise, 67% say that, in general, "cryptocurrencies need to be more regulated." This response kind of makes sense, considering how many people got affected by the FTX scandal and other stories like that.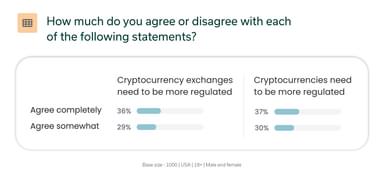 4. At least 3 out of 10 people are still planning to buy crypto in the future
Despite everything that happened with FTX, it looks like the future of the crypto industry still has a chance to redeem itself. About 30% of respondents said they will probably or definitely buy cryptocurrencies in the next 12 months. But about 23% said that they may or may not buy.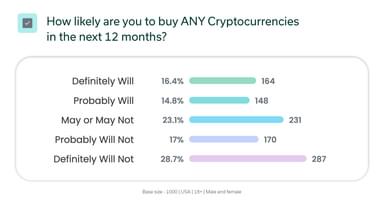 So it seems like people are still on the verge when it comes to actually investing cash into this newer form of currency. Leaders in crypto now need to focus on cementing consumer trust in the industry as a whole, making sure that crypto buyers feel safe in investing. 
What the future holds
With this study, we wanted to show what's happening in the crypto world from the point of the consumers. And as you can see, it's all up to industry leaders to tip the scales. We're curious to see how this story impacts the future of crypto.