The Lunar New Year kicks off on February 1st. People around the world are getting ready to celebrate this holiday with their families. Some are doing the traditional house cleaning routine, some are setting aside money to put in red envelopes for their relatives and friends.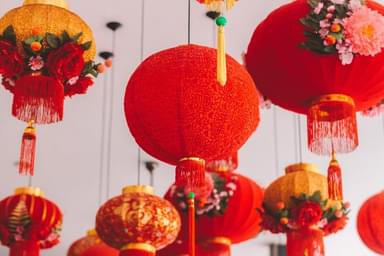 To learn how Canadians and Americans celebrate Lunar New Year, we decided to survey a total of 600 North Americans on Upsiide. We asked them about their favourite things about the holiday, national dishes and traditions, and more. The respondents also went through an idea screen exercise, which revealed the kinds of activities they are most excited about doing this Lunar New Year.
Here's a quick summary of our sample:
300 Canadians, 300 Americans

18-65

Male and female

Celebrate the Lunar New Year
Okay, let's dive into the results.
Key findings
1. People associate the Lunar New Year with family and new beginnings
Traditionally, the Lunar New Year marks the end of cold wintry days and the beginning of spring, which also means the time of planting and harvests. The theme of new beginnings was evident in our study results. "Fresh start", "new cycles" and "beginnings" are some of the words that people in our study used to describe what they associate with Lunar New Year.
Another theme is family. If you look at the keywords bar chart below, you'll notice that "Family" is the most used one there. This means that the majority of respondents consider the Lunar New Year a time for family and close relatives.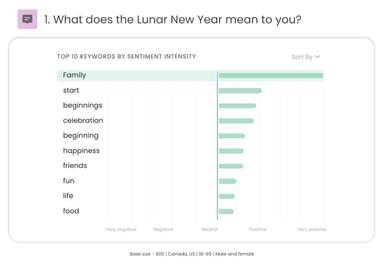 2. The most popular Lunar New Year food is dumplings
The Lunar New Year is celebrated in a number of East Asian countries, including but not limited to China, Korea, and Vietnam. Such an array of cultures often results in a variety of traditional foods that are being consumed during the festivities. 
We asked respondents to tell us the three top foods to eat during the Lunar New Year and the answers were pretty diverse. "Spring rolls", "chicken", and "fish" are some of the most frequently consumed foods. However, the winning dish was definitely "dumplings" - now we know what to cook up for the New Year dinner!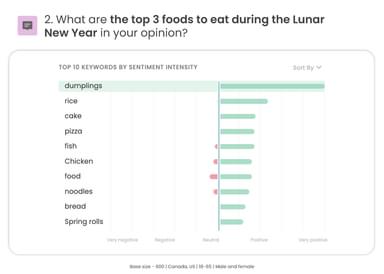 If you look closely at a word cloud below, you'll see that other dishes appeared in the mix. North Americans enjoy eating "burgers", "nachos", "pasta", and "sushi" during the Lunar New Year. It's interesting to see how people in Canada and the US have turned to other international cuisines, beyond East Asia, to find foods to eat for the Lunar New Year.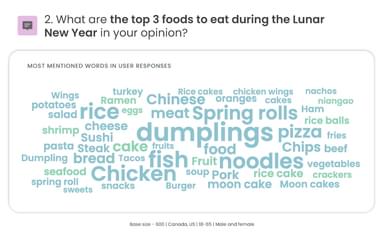 3. North Americans have had to put travel plans on hold due to COVID-19
Every year, the Lunar New Year contributes to the largest human migration in the world. "Chunyun" is a period when millions of people travel back home for family reunions. However, with the beginning of the pandemic, "chunyun" had to be put on hold. Last year, around 98 million passengers traveled during the Spring Festival in China, representing a 76.8 percent reduction compared to 2019.
With that in mind, we asked consumers about their travel plans this year. Half of the respondents said that they will not be travelling home to celebrate the Lunar New Year with their close ones. And almost 66% indicated that they decided to stay due to COVID-19 restrictions. The data suggests that tourism is likely to suffer again this year from the travel restrictions. 

4. People are excited to spend time with their families (though there are some exceptions)
Whether North Americans are travelling home this year or not, the results show that they can't wait to see their relatives. The winning activities of this Lunar New Year are "seeing my friends and family" (Idea Score of 81), "cooking/baking with the family" (Idea Score of 74), and "eating traditional New Year foods" (Idea Score of 74). This simply reinforces the key finding - family and the Lunar New Year are closely intertwined.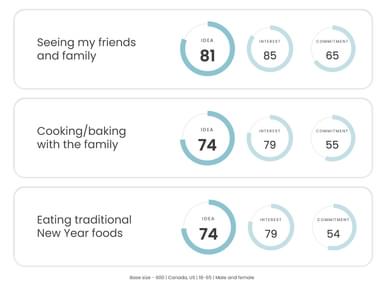 However, there is also an audience group that found a few activities particularly important - and they are not as connected to the topic of family. 
The quadrant chart below categorizes the activities into four brackets, according to the balance between their 'Total Interest' - how many people swiped right - and their Commitment Score - how often they chose a specific activity when pitted against another activity that they liked.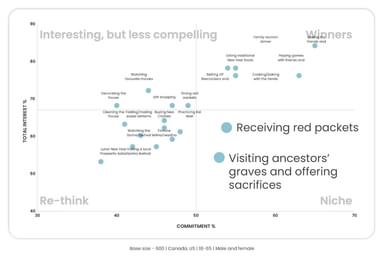 "Receiving red packets" and "visiting ancestors' graves and offering sacrifices" appeared in the Niche quadrant. While these activities weren't very interesting to the broader group, those who did like them continued to pick them over others. 
As we toggled with filters, we found that people aged 39-45 were particularly committed to "visiting ancestors' graves" (Commitment Score of 65% vs. the average of 54%), whereas Canadians aged 20-24 were loyal to "receiving red packets" (Commitment Score of 63% vs. the average of 53%).
Whether it's because of a general interest in New Year traditions, the fact that younger generations count off the red packets every year, or a connection to specific achievements at that age, some specific audience groups are very committed to these activities.
5. There's an inclination towards general celebratory activities over those specific to the Lunar New Year 
If we look at the idea screen results from above, activities that are not specific to the Lunar New Year traditions seem to be more popular. The Idea Map is a good representation of that.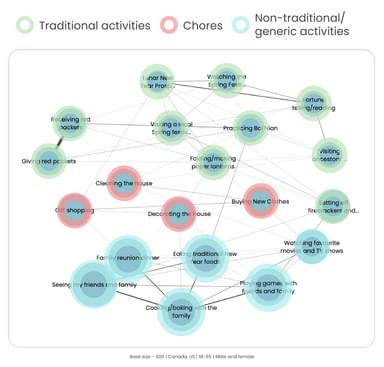 We divided the activities into 3 categories based on their common characteristics. The size of each sphere represents its Idea Score, i.e. the potential of the idea. The categories are:
Non-traditional/general celebratory activities - activities that can be done beyond the Lunar New Year settings

Chores - activities that are part of the Lunar New Year traditions but can also be done as part of the preparation for the Lunar New Year

Traditional activities - activities specific to the Lunar New Year and are culturally-driven
The non-traditional/general celebratory category is most popular. We think this might be happening as Canadians and Americans that celebrate the Lunar New Year likely adapted their traditions. It's also backed up by the fact that 63% indicated that their families follow a few important Lunar New Year traditions or are pretty relaxed about them.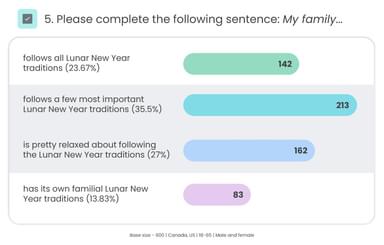 It might also be a case that respondents simply don't have access to traditional activities such as "visiting ancestors' graves and offering sacrifices" or "visiting a local Spring Festival event" while living in Canada and the US (the latter might also be less popular because of the pandemic restrictions). 
Celebrating the year of the Water Tiger
Every Lunar New Year in China is connected to Zodiacs, which are assigned with specific animals. This year is the year of the Water Tiger. According to legends, the tiger is an animal of strength, speed and perseverance. Therefore, we want to wish everyone who celebrates Lunar New Year strength and patience this year!