Canadians have been betting on sports since 1985. But due to losses in sports betting revenue in the last few years, the federal ban on single-game sports betting was lifted in August 2021. In Ontario, the market for private gambling opened in April. 
A little bit about our study
We ran a study with just over 1000 Canadians - both betters and non-betters - to understand the current size of the sports betting market and learn how people are reacting to the legalization of single-game sports betting. A few things that we dug into:
Awareness & acceptance - how aware and accepting people are of the new law

Sports betting involvement - what are their preferences and behaviour for sports betting

Impact of the new law - what changes they're making in their betting behavior because of the new law.
After conducting the Upsiide survey, we also ran the results through our modeling tool - the Total Unduplicated Reach and Frequency (TURF) simulator. The TURF model examined every possible combination of sports betting offers and generated a recommended mix of offers that reaches the greatest number of people with the fewest offers.
How we classified the audience
Not all betters are the same, and we wanted our study to reflect that. We grouped our audience into groups and subgroups.
Betters - Those who placed a bet on a sports game (n = 216)

Casual Betters - those who use less than 4 betting apps/websites (n = 161)  

Heavy Betters - those who use 4 or more betting apps/websites (n = 55)

Non-betters - those who  are not active or intended betters (n = 696)

Never Bet Before - those who have never placed a bet in the past (n = 567)

Lapsed Betters - those who have bet in the past but not in the past year (n = 120)

Intended Betters - those who intend to place a bet on a sports game  (n =178)
These groupings helped us make better sense of the results and see how strongly each group was affected by the new law.
5 key insights from our sports betting study
1. Canadians are aware of single-game sports betting being made legal, and more than half of Ontarians are accepting of the new law.
6 out of 10 Canadians are aware of the change in the law that happened in August 2021. Almost all (98%) of Heavy Betters said that they're aware of it. This number goes down to 84% among those in the group of Casual Betters.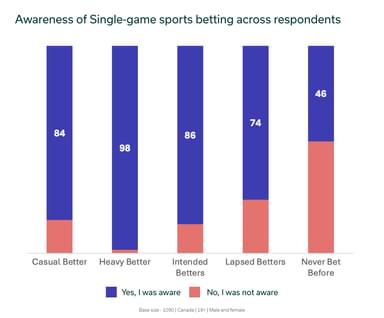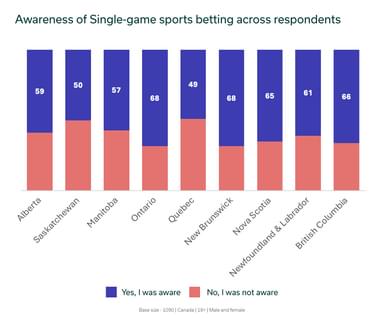 If we look at the levels of awareness amongst different provinces, Ontario comes at the top, with 68% of people knowing about the new law.
Ontarians also seem to be pretty accepting of their province legalizing and opening the market to private online sports and casino gambling; 55% strongly approve and somewhat approve of the new law, while 37% are neutral.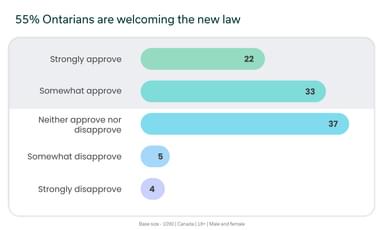 2. Ontarians are expected to bet, watch and spend more on sports.
We wanted to see how strongly the change in the law impacted people in Ontario.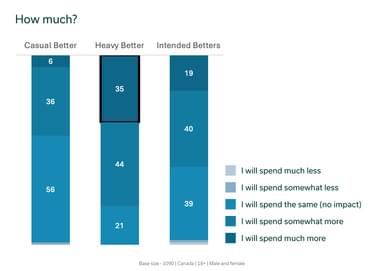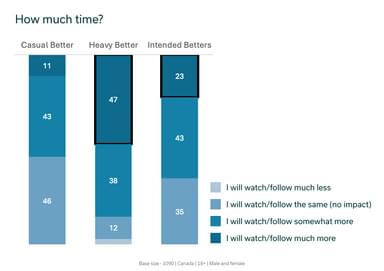 75% of this group stated that they will be betting at least somewhat more often. More than one-quarter of Heavy (32%) and Intended Betters (25%) are likely to increase the frequency of their bets.
We also asked Ontarians how the opening of the market to single-game sports betting impacted how much they spend: 38% said they will invest somewhat more on betting and 18% indicated they'd be investing much more.
Finally, 64% of Ontarians stated that they will be spending at least somewhat more time watching sports. Heavy and Intended Betters were one of the top-scoring groups here too.
3. With consumers looking for trustworthy brands to bet with, traditional marketing gimmicks like celebrity endorsements won't attract them.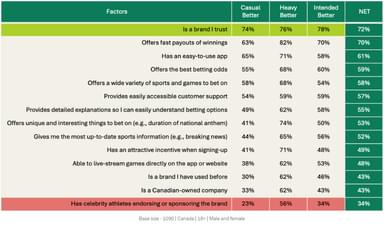 Online sports betting brands employ a variety of tactics to entice prospective betters, but what do these people actually look for in a sports betting brand? 72% of respondents said they will go with a brand they trust, 70% want to be offered fast payouts of winnings, and 61% want the brand to have an easy-to-use app. 
Brands that want to target Heavy Betters should know that for this group, it's not about the passion for a sport or emotional attachment to a team. They are looking for different avenues to make money and are attracted by unique betting offers.
Interestingly, "having celebrity athletes endorsing or sponsoring the brand" scored the lowest among all subgroups. One might argue that celebrity endorsement is a helpful marketing tactic to build trust (think of the power of influencer marketing). But it turns out that only 34% say that this is an important factor. We'd of course expect brands to try many different tactics, but at face value, celebrity endorsements don't stand out as a core reason for betters to give a brand their business.
4. Betters are more risk-averse than you might expect - they're looking for offers that provide an initial boost.
The Upsiide Idea Screening tool revealed which offers respondents like most. It appears that "Collecting Bonus Points", "Sign Up Bonus" and "Free Casino Chips" are the most popular offers. Just from the first glance at these 3 options, we notice that betters are most interested in having extra funds so that they can bet more. 
But when we put all ideas into a quadrant chart, we see that there is a bit more to the story. Upsiide's quadrant chart categorizes the offers into four groups, according to the balance between their 'Total Interest' - how many people swiped right - and their Commitment Score - how often they chose a specific offer when pitted against another offer that they liked.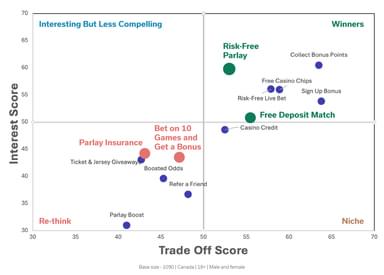 The quadrant chart maps the ideas into 4 quadrants, and in this example, half of the offers ended up in the Rethink quadrant and another half in the Winners quadrant. 
You can see that all offers in the Rethink quadrant suggest some sort of risk - e.g. "Parlay insurance" or "Bet on 10 Games and Get a Bonus". In contrast, ideas in the Winners quadrant are all related to getting some sort of boost or minimizing risk (e.g. "Free Deposit Match" or "Risk-Free Parlay"). 
This result shows that sports betters aren't generally huge risk-takers (what an oxymoron!). It might just be human nature to minimize risk. Therefore, betting companies need to promote risk-free offers to attract them.
5. 7 must-have offers for sports betting brands.
Our TURF modelling tool helped us find the most optimal number of offers and a combination of offers to reach the most people. 
When we look at all offers tested, we can see that the portfolio of offers plateaus at 65% of betters being reached. 7 is the optimal number of offers that a betting brand should employ before they start getting diminishing returns. 
But what are those 7 offers? The table below illustrates different combinations of offers a brand might want to use.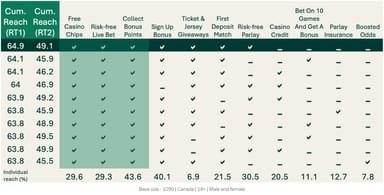 The table shows that multiple combinations of 7 offers achieve a similar reach (about 64%). If a betting company were to promote 7 offers in Combination 1, they'd be likely to get the highest reach. 
3 out of those 7 offers appear in all top 10 combinations: "Free Casino Chips", "Risk-Free Live Bet" and "Collect Bonus Points". They are so-called "must-haves", or the combination of offers that is likely to reach the most people.
Offering the right things shouldn't be a gamble.
If you want to dive deeper into the results or get a comprehensive deck to share with pals, download the detailed report now.