Strategic innovation insights in a flash.
Upsiide was built by researchers at Dig Insights, with methodologies that reflect new thinking in behavioral psychology.
Why Upsiide
Upsiide was built by seasoned researchers at Dig Insights (so you know it's good).
Methodologies purpose-built for innovation
We've leveraged our expertise in innovation research to build solutions for innovation testing onto the Upsiide platform. They're baked into the experience which means faster research and reporting.
Predictive of in-market potential
The respondent experience on Upsiide is unique in that we collect interest in an idea as well as commitment. This means we've been able to develop a brand new metric, the Idea Score, that makes prioritizing opportunities incredibly simple. There's nothing else like it in the market.
Data modelling that reveals strategic opportunities
A lot of research tech is simplistic questions and simplistic reporting. Which leads to simplistic decisions and missed opportunities. Upsiide provides a clear ranking of your ideas, as well as data visualizations and volume & source of volume forecasting.
How Upsiide works
1

Choose a Blueprint

No need to start from scratch. Select a study template created by researchers in-house, add your stimuli, and press publish.

2

Target the right audience

You have access to 44M global respondents in-platform. Select who you'd like your study to go to and drill-down further with custom questions.

3

Launch your study

You can expect your study to generate responses within minutes, with the majority of studies closing within 12-24 hours. Go on, sit back and relax.

4

Uncover insights

Now the fun starts - we've got 5 reporting dashboards that help you squeeze insights out of your data. Whether it's prioritizing ideas or better understanding motivational drivers, we've got you covered.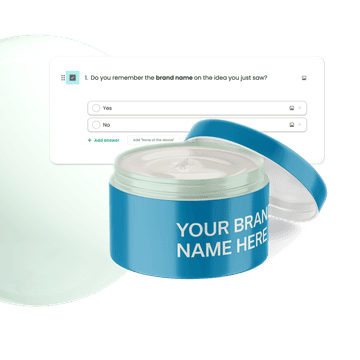 Uncover your next winning concept.
We've developed a platform that's designed for innovation screening. Our automated Concept Assess methodology provides you with direction on which concepts have the most in-market potential.
See which communications strike the right note.
Deciding on which messages to go-to-market with is tricky. On Upsiide, you can test as many messages or claims as you'd like and figure out which will cut through.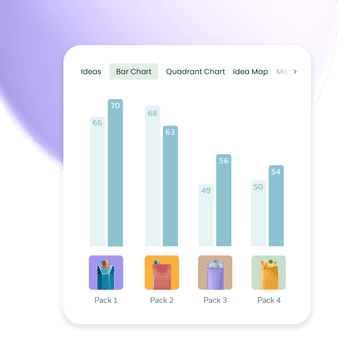 Find the optimal package design.
Without quantifiable proof, packaging design decisions can become about who's opinion is loudest. Why not assess intuitive preference and branding with your target audiences?
Don't just take our word for it...
I love the Upsiide tool because it gives my team the ability to test concepts that they may not have had the opportunity to test otherwise. In a category like ice cream, where innovation drives growth, there are always so many ideas in the pipeline and Upsiide allows us to have quick consumer feedback to make quality decisions quickly.

The Human Insights team looked at all initiatives we have done this year globally. Everyone voted (including senior management) and determined that Upsiide is #1 our biggest success of the year. To get something like this up and running in such a short period of time is phenomenal. It was my best experience working with an agency.

We've saved money, a lot of money. Before Upsiide, if we wanted to test 30 ideas with a traditional agency partner, we would spend tens of thousands of dollars.

And the amount of time that you would need to wait for the results to come back would mean weeks lost. Upsiide has saved us weeks of waiting for results and allowed us to act on key insights right away - while saving valuable budget.

The thing that is most beautiful to me about concept testing on Upsiide is that the forced choice methodology doesn't just tell you whether consumers like or dislike a concept, it simulates real world decision-making.

I know how dependable the data is that comes from a 'forced choice' study experience. If you're working with a limited insights budget, this methodology means you won't have to trade off on the integrity or sophistication of a larger quant survey.